the proven steps to profitably launch your life's work online & successfully start an online business
Published: 21-04-2020 - Last Edited: 04-10-2022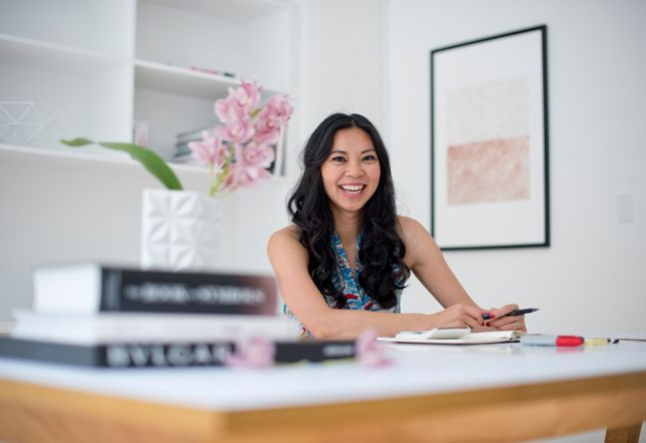 Discover the proven pathway to start an online business & scale online
With the world becoming increasingly digital, especially through the COVID-19 pandemic, a lot of people are wondering how to work from home online. In the past, many Yoga teachers, coaches and spiritual business owners put off launching their business online. Today, it's not a question of 'if' it could be successful, it's a question of 'when'. 
A year from now, what could be possible if you start today?
There are people in the wider world you are meant to serve… people who are waiting to hear your unique message. Now more than ever, this is the time to be visible and learn how to profitably start an online business.
Imagine if the marketing manager for Twitter, Sephora, and Microsoft could help you with some easy ways to bring your life's work online? That's Destinee Berman, one of our favorite spiritual business coaches, whose superpower is behind the online success of Ashley Turner, Sianna Sherman and other spiritual superstars.
She truly gets yoga teachers, coaches and spiritual workers, and understands why it can be a struggle to market ourselves, especially online.
In today's article, we'll be sharing Destinee Berman's best tips and strategies to scale your life's work and start an online business.
How to Make an Online Business in 5 Steps
1. Identify Your Niche Target Audience
Instead of trying to serve everyone, results show it's more valuable to speak to a specific audience. When you speak to a group's specific problems, they are more engaged, active and responsive. It also makes it much easier to build rapport and trust, which is essential if you want them to buy from you. 
2. Provide High Value Content
Before you start an online business, take time to plan your social media and email marketing content. It is important to answer your audience's questions, position yourself as an expert and solve their problems. High value and helpful content builds trust, improves conversions, and generates more leads. It's a great way to become your tribe's favorite brand.
3. Build a High Converting Website
Many new entrepreneurs start an online business and spend money driving traffic to their website, without thinking about what happens when new customers land on the homepage. Get expert advice on how to get visitors to explore the right pages so that your marketing efforts pay off with a high converting website.
4. Scale With Digital Marketing
One of the benefits from working from home is that all your marketing can be done online. This is particularly important if you create an online training and what to reach a bigger audience. A clear digital marketing strategy, a mix of social media, SEO and email marketing will help you reach your ideal audience where they spend time online.
5. Continuously Measure and Improve
Marketing is a never ending investment to make sure you grow your online business sustainably. Online entrepreneurs often overlook this step, jumping from one campaign to another. It's important to test what is work and what isn't with clearly defined measurement in place. You may even be surprised with unexpected results, helping you refine where to focus your energies next.
What Now? Where Do I Start?
Destinee Berman can walk you through the specific steps needed to profitably bring your work online. She'll show you exactly how to put the above in place. Destinee's work is unlike anything we've seen out there, because her advice is so aligned with yoga teachers, spiritual workers, holistic healers and intuitive artists and thousands are using her strategies to successfully work from home online.
Why not get started with a free step-by-step launch guide AND daily coaching in Destinee's 5 Day Launch Your Calling Challenge? If you're looking to grow your reach and income with ease, here are the proven steps you need to get started:
FREE LAUNCH GUIDE: the only launch guide you'll need to fill your online program
5 DAY 'LAUNCH YOUR CALLING' CHALLENGE: Get daily coaching & learn the exact steps to profitably bring your life's work online into an online course
You'll walk away knowing how to swiftly and authentically bring your program to life online, even if you have no tech experience and it's your first time teaching online. You'll save time, money and energy by avoiding the biggest mistakes course creators make – and learn actionable ideas of what to do instead.
You also might like this article: 5 tips to authentically grow your business online