an interview with yoga teacher jay fields
Published: 08-08-2023 - Last Edited: 13-08-2023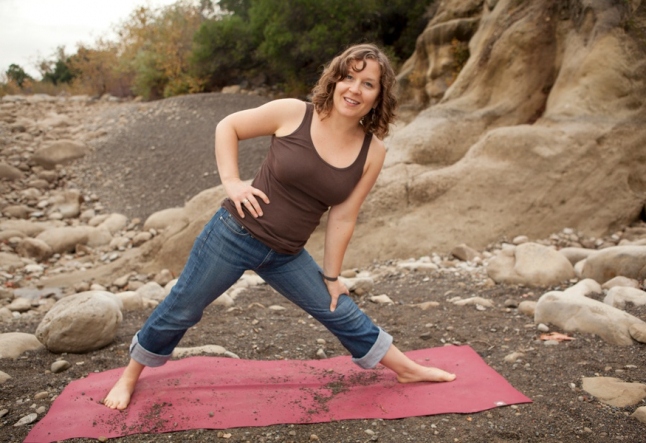 Teaching people, not poses
Jay Fields started teaching yoga when she was a teenager. Now, 28 years later and in her 40s, she has a lot to say about teaching with integrity. Fields has no patience for teachers who prioritize the pursuit of a perfect-looking pose over the needs and inner lives of their students.

Her book Teaching People, Not Poses expounds on 12 principles for maintaining integrity in teaching.

These include "show your vulnerability and your expertise," "stay in your body" and "remember that your students are people." Fields is one of those people who can write about spiritual ideas in a conversational, down-to-earth way. Before she started publishing books, many folks followed her blog for years.
After teaching in Portland for more than a decade, Jay recently moved down to Ojai, California. Her days now involve writing, one-on-one teacher mentoring, and a few group classes. I caught up with Jay over the holidays for a talk about her work.
Training Teachers
Fields' emphasis on teaching teachers developed naturally over her career. "Some have read my book, they've been following me for years," she said. "Finally they reach out and have a real conversation."

And while teachers first approach Jay with questions about their practice and teaching, often that's the last thing they wind up talking about. So what do they really want to discuss? "Emotional vulnerability,"

Fields said. "Acting upon your inner knowing with courage."
Zoom has enabled Fields to work one-on-one with teachers anywhere in the world from her tiny adopted town of Ojai. Her books give her a global reach.

She's also planning some in-person appearances at teacher trainings. "I come in and put the 12 principles into activities and group reflections that are designed to recreate the situations and feelings that come up while you're teaching," she said.

Fields draws on her background doing corporate facilitation, wilderness therapy and guided vision quests to help students process uncomfortable feelings in a safe space.

Her exercises, she said, are "designed to trigger people so we can actually get to the gritty part in a way that you don't normally get to in teacher training."
Group Classes
As Fields' own practice has deepened, she's less interested in teaching the typical 90-minute studio class.

Now she leads a monthly 3-hour class in Ventura. In addition to poses, she facilitates group sharing and counsel.
She also teaches a free weekly class at Patagonia in Ventura. She supports the socially responsible mission of the clothing and gear company and enjoys the folks who show up to class. "They're a riot," she said. "It's so fun."

She cheerfully faces the teaching challenge of leading about 60 people of varying abilities through a one-hour class with no props.

"The same people show up every week,"she said. "It's a really neat community of people from total beginners to teachers. From people who you think would never do yoga to people who've done yoga for 20 years. It's kind of just play."
Life in Ojai
Portland was a good place for Fields. But before she ever saw Ojai, she had an odd affinity for the place.

She had heard about the town several times, and each time she felt a little "ding" in her heart, she said, like a bell ringing. Finally she had to visit. "The first time I drove into valley," she said, "I got it. I fell in love with the mountains."
She returned to her life in Portland. "I dreamt about the mountains every night for 30 nights in a row. I decided I should go back."
Now Fields starts every morning with a walk in those much dreamed-of mountains. She's embraced the tranquility of small town living. "Life in Ojai is so much simpler than Portland," she said. "It's really quiet. There's not a lot to do."
Fields wants to take her ideas about embodied knowledge outside the yoga world.

She's now collaborating with women creative leaders and hopes to reach entrepreneurs, healthcare professionals and politicians.

She wants to help them tap into their inner resources of courage and passion. "I want to do more retreats and coaching with people who may never have done a yoga class but really benefit from embodiment," she said.
In addition to Teaching people, not poses, she's used this peaceful time to write Homebody yoga: 28 days to bring you home to your body & a life led with purpose. Now she's working on a memoir.

You can Reach Jay on her website and her IG
Read next >>> exclusive interview with Cat Kabira