interview with tara guber
Published: 26-06-2013 - Last Edited: 10-11-2022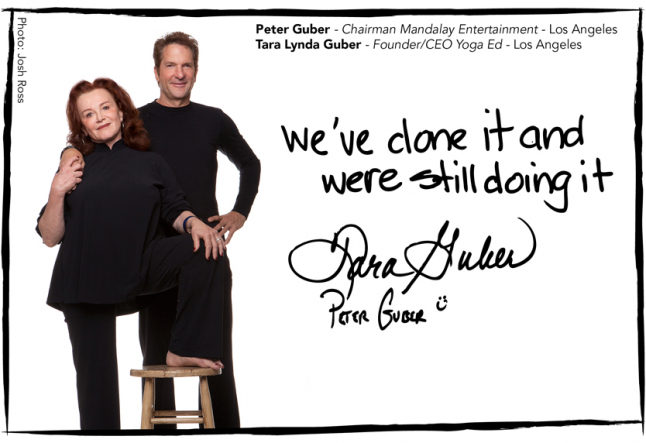 joining the I AM DOING IT project
Tara Guber is a yogini and community activist both at heart and in action. She is the founder of Yoga Ed.™, a nationally recognized yoga program used in Pre-K and K-12 schools. Tara is also the creator and author of CONTACT YOGA – partner yoga, supporting relationship on and off the mat.Contact Yoga, the e-book, is launching this fall, September 2013. 
Mother of four and wife of PeterGuber, Chairman and CEO of Mandalay Entertainment Group, Tara is a yoga practitioner for 35 years, a yoga teacher, philanthropist and entrepreneur. She has authored two other books, Yoga Moves with Alan Finger and Contact: The Yoga of Relationship with Anodea Judith. Tara has studied with yoga masters all over the world for nearly 30 years. Yogi Times caught up with her to capture her thoughts.
Yogi Times:  You have been invited to join the Yogi Times Global Project – "I AM DOING IT" – Which is about raising consciousness with your skills and passion in your community – Can you tell us WHY you have been "doing it" all this time?  
Tara Guber:  I've always felt it was important to give back to my community and to create opportunities for change and growth for others. There is no bigger gift to me then consciousness/awareness and YOGA is a powerful practice to get you there and
keep you there.
YT:  Was there a defining moment in your life that propelled your need to connect with yourself and others in a more profound way?
Tara Guber:  I met Yogi Alan Finger nearly 35 years ago when he was recommended to help my husband, cope with a bad back, through yoga. Peter was up and walking in just a few days and we have been doing yoga ever since. Also it was a powerful tool to help heal the past and create a vibrant new future"¦ a new way to look at life.
YT:  What was your driving inspiration in creating Yoga Ed?
Tara Guber:  After decades of practice and working with yogis around the world, I KNOW yoga transforms you physically, emotionally, intellectually, and spiritually. I knew that if
children could experience these benefits in school, their lives would be transformed as well. As a former elementary school teacher, it was an eye opening experience for me to see how much children need to be present in their bodies, and clear in their minds – especially when in the classroom.
YT:  What do you consider the most important part of the work you do with Yoga Ed?
Tara Guber:  "Breaking the barrier" to get yoga to be accepted by principals, teachers and parents. Children embrace it naturally, but if you win the hearts and minds of adults, that's a real breakthrough.
YT:  You are the mother of 4, are any of your children following the path of yoga?
Tara Guber:  Yoga has a place in all of my children's lives. Yoga is not an exercise to me it is a way of LIFE! It is how children view the world and other people. My daughter Jodi Guber Brufsky is the owner of Beyond Yoga, a successful yoga clothing company.
YT:  You shared with us that you enjoy ""¦continued education," what are some of the most inspiring authors, workshops or seminars you have studied?
Tara Guber:  For years I hosted speakers evenings in my "Yoga House" so there are many spiritual and metaphysical teachers and authors that I have met and studied with. I have
attended Deepak Chopra and Tony Robbins' seminars and workshops for many years.
I have also enjoyed days of silence at Spirit Rock in northern California. Silence speaks louder than words and is a profound teacher.
YT:  Which teacher has most influenced and inspired your personal practice and life's work?
Tara Guber:  There are so many but for sure "¦Alan Finger who set me on the path of yoga some 38 years ago and Deepak Chopra, a dear friend, who for 25 years continues to illuminate the path before me.
YT:  How has the practice of Contact Yoga transformed your personal relationship with yourself and your life partner, Peter Guber?
Tara Guber:  Our relationship is firmly grounded in the Seven Points of Contact. These qualities are the anchor and foundation of all expressions of our relationship. The qualities of the 7 points of CONTACT YOGA which pertain to the chakras in a partner practice on and off the mat are:
Trust
Sensuality/Passion
Responsibility/Willingness/Determination
Love/Compassion/Forgiveness
Communication/Honesty/Truth
Insight/Vision/Creativity
Union

 

 

Tara Guber:  I could say it was one of the many gifts of yoga: my practice revealed it to me and continues to show me every day.

 

YT: What keeps you motivated to be "doing it" all this time?

Tara Guber:  Once you surrender to life and spirit, "motivation" becomes a state of being.

YT:  What do you consider your greatest success?

Tara Guber:  Without question, my children and my relationship with my husband – Peter. And I'm proud of the two Yoga's I have created Yoga Ed. and Contact Yoga.

YT:  If you were to leave your body tomorrow, what have you not accomplished yet?

Tara Guber:  I've never really thought about my life in terms of accomplishments. My focus has always been on experience. If I left this planet tomorrow, I am eternally grateful for every moment of my life. I have lived a successful full life.

YT:  A last word of wisdom to the world?

Tara Guber:  Quiet the Mind, comfort the Heart, and Surrender to Spirit.

 

 

Interview conducted for Yogi Times 


by Rachelle Godfrey, RYT, CYT & iRest® Teacher – ocyogatherapy.com

 

Read next >> aaron star's hot nude yoga hawaii