summer rayne all season long
Published: 29-01-2014 - Last Edited: 07-11-2022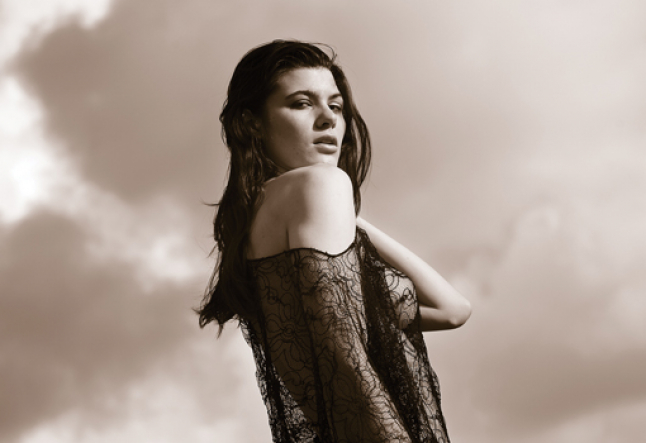 eco-fashion's biggest advocate
It's not an easy name to forget. In fact, when you sit with this Ivy League scholar-model-social entrepreneur, there is not much you won't remember about Summer Rayne Oakes. Though she is not yet the biggest name on the fashion scene, this eco-friendly girl with the whimsically eco name has traveled far and wide. In her fashion spreads, she is known for her chameleonesque appearance and her femininely fit physique. In the business world, she is known for her fearless drive and unwavering energy. And in more intimate circles, she is known for her soulful beauty and her playful wit.
When faced with the question about her "job," this young socially enterprising model has found it quite difficult to describe what, precisely, she does without a thorough explanation. Most people, when they uncover who she truly is, have a tendency to rephrase the question to: What doesn't she do?
Though she is not the biggest name on the fashion scene yet, the eco-friendly girl with the whimsically eco-name has traveled far and wide.
Oakes works under her own company: SRO, LLC., which is not only an acronym for her name, but also for "Social Responsibility Outreach," which, in a nutshell is exactly what she does. Her outreach, however, is uniquely all her own. The budding businesswoman voraciously works at the intersection of fashion, media, sustainability, and education to create innovative endeavors with an ethical twist.
Within the first few months of moving to New York City after college, Summer Rayne began working with companies and organizations, not only as a spokesperson and model, but also as a think-tank partner, consultant, and networking mogul. Some companies that have snatched up her multifaceted talents include Aveda, Mercado Global, StockinGirl Legwear, Turner Media Group, and Recyclebank.
Aveda has also found a place for this savvy sustainability icon. The socially-responsible beauty company has partnered with Summer Rayne to build the first ever international networked database for students on sustainable fashion. They have also made a motion to sponsor Oakes as a United Nation's US Partnership Youth Emissary. It is in this position that she will travel and speak about indigenous communities whose economies are co-dependent with the fashion and beauty industry.
Oakes will continue her outreach to her fellow peers with the help of Remy Chevalier, Director of the Environmental Library Fund. Together, they will partner with schools, mills, and business professionals to bring sustainable textile clearinghouses to colleges.
Along her journeys, Summer Rayne has also developed a number of strategic partnerships – namely with Recyclebank, the United Nation's Environment Programme, YouthXChange, The US Partnership, The Cloud Institute for Sustainability Education, McDevitt Youmans, and the Steiner Foundation – to launch the pilot stages of a sustainability education curriculum. ECOFASHION 101, "a conscious curriculum with style," introduces traditional subject learning through the global fashion industry. An abridged version is set to debut in the greater Philadelphia area later this month.
The world of television is also closely within her reach. She is currently in negotiations to host an upbeat, socially-charged series aimed towards her peers. And the best part about her job? "Connecting with people," she says with a glow about her. "Meeting the right kind of people is like an endorphin rush for me." When asked if she has any thoughts of slowing down, she softly remarked, "Not in the traditional sense. But I've been doing a lot of work on the West Coast, where it's not only a bit more laid back, but all about a conscious lifestyle. It's grown on me. Though I am a small town East Coast gal at heart, I feel that I can easily take my work with me out West."
summerrayne.net ; ecofashion101.com
Visit the YOGI TIMES BOUTIQUE to discover curated, artful and ethical brands that enhance your lifestyle.
Read next >> an interview with malika baruah