magnificent spinach pie
Published: 30-01-2013 - Last Edited: 29-01-2022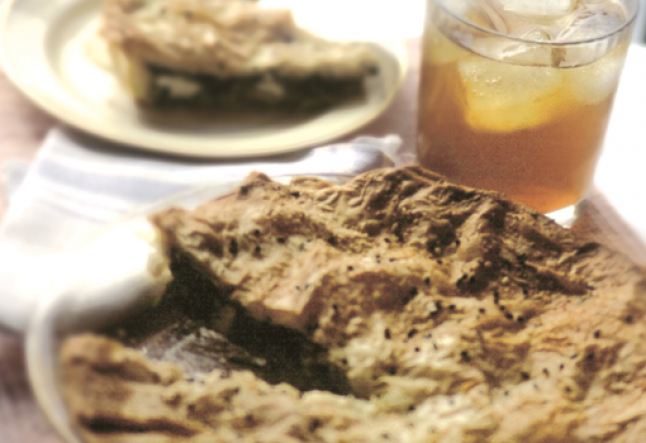 Place a pie plate or shallow casserole dish in the oven and heat to 350. Place feta cheese in a deep bowl. You may momentarily place the bowl on top of the stove until you add the spinach if the cheese is very firm from refrigeration.

Snap off the large stems as you wash the spinach thoroughly in a colander, removing all the dirt and sand. Pat the leaves very dry with a cotton dishcloth.

Remove the heated pie plate to a heat safe surface like a wooden cutting board and quickly

Add 1/2T butter to the heated pie plate.

Raise the oven temperature to 375. When the butter melts, spread it evenly around the bottom, sides and over the lip of the plate with a pastry brush. (Use a paper towel if you do not own a pastry brush.)

Place 4 sheets of filo dough in the pie plate.

Cut overhanging edges off with a scissor, but retain an extra 1/2" all the way around so the crust does not shrink smaller than the plate. Retain the pieces. Return the plate to the oven and let the dough become very crisp, but not brown, which should take about 10 minutes.

Finely chop the parsley. Add the mint and spinach to the pile and continue to chop until the spinach is coarsely chopped. Add the chopped ingredients to the bowl of feta. 

Melt, but do not burn, the remaining 1/2 tbsp of butter in a small ramekin or oven-safe cup in the oven.

Beat the 2 eggs and pour over the spinach and cheese mixture. Add salt and pepper and stir the mixture with a fork until it is an even consistency.

Remove the melted butter. Pour off any of the watery liquid at the bottom of the bowl of spinach mixture into the melted butter and mix. Scoop the spinach mixture on top of the stiffened filo dough, which is still in the pie plate. Even out the layer with a fork being sure to press it up the sides of the pie plate, too. Place the cut filo dough pieces in an even layer all around the plate, and tuck the raw filo dough over the edges of the cooked filo dough so the edges will not be burned in the final baking.

Place the 4 large sheets on top and trim with a scissor. Place the cut pieces and the filo scraps from earlier under the big rounds, so there are only large, round pieces on top. Brush the top layer with the butter mixture, especially around the edges. Sprinkle the black and natural sesame seeds and the poppy seeds on top of the glazed filo dough and return to the oven.

Allow it to bake until brown, which should take about 45 minutes. Ovens vary; so check it every 5 minutes after 30 minutes of baking time.
Enjoy warm!