sharon's amazing chocolate mousse jivamuktea recipe
Published: 28-07-2011 - Last Edited: 16-11-2022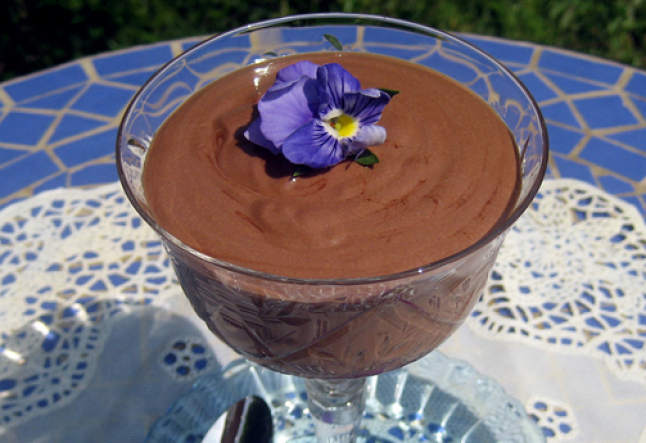 vegan guru, sharon gannon shares her divine ingredients for the ultimate chocolate mousse
A recipe, currently featured at the JivamukTEA Café and in The Jivamukti Vegan Cookbook, is a delicious chocolate mousse; embodied by light and love.
#Desserts | Serves 10-12
The mousse is light, smooth and airy and at the same time deep, dense and rich. Yogis embody a balance of both the terrestrial and celestial forces. Yogis are deeply rooted and aligned with the earth, and because of that connection, they are able to transcend the binding heaviness of physical existence and soar into heavenly realms of spacious delight. So the mousse is light and heavy at the same time! FYI, I recommend using a hand mixer and saving your arms for practicing handstands!
INGREDIENTS:
1 box extra firm tofu
1 box firm tofu
1 bag Vegan chocolate chips
2 Tablespoons unsweetened Cocoa powder
1 Tablespoon Raw Cacao powder
1 can (13-14oz) full fat canned coconut milk
1/3 cup maple syrup
2 Tablespoons coconut oil
2 Tablespoons vanilla extract.
Pinch of salt
Put tofu into a food processor, add a pinch of sea salt and blend. Then add maple syrup, coconut milk, vanilla extract, cocoa and cacao powder and blend again. Meanwhile, melt the chocolate chips and coconut oil in a double boiler. Add to melted chocolate chips and coconut butter to the tofu mixture and thoroughly blend. Transfer the mixture to a large bowl using a spatula to scrape out every last drop. Using a hand mixer, whip for 3-5 minutes at high speed; this will lighten the mixture and add more air. Using a large spoon, spoon into serving cups or crystal champagne glasses and refrigerate until cold for 1-2 hours.
Optionally, you could serve with a dollop of vegan whipped cream on top. Makes about 10-12 servings depending on size of cups.
Read next >> Raw Chocolate Chewy Turtles