remembering babatunde olatunji
Published: 22-03-2011 - Last Edited: 07-11-2022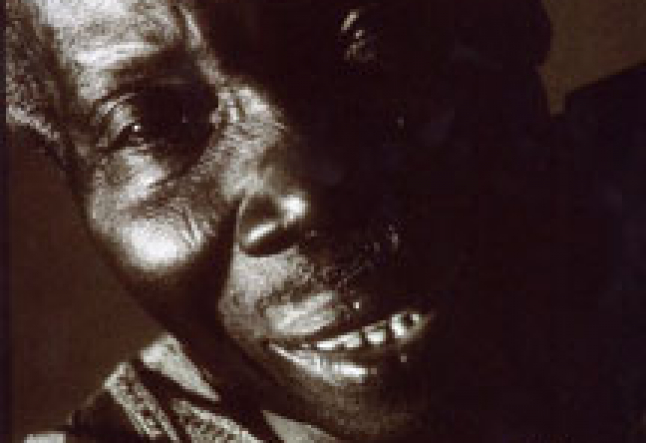 requiem for a drummer
Babatunde Olatunji was a virtuoso of West African percussion. His 1959 album "Drums of Passion" was a worldwide smash hit. He received a Grammy Award in 1991 for his collaboration with Grateful Dead drummer Mickey Hart on their Planet Drum album. He was also the founder of the Voices of Africa foundation.
On Sunday, April 6th 2003, Babatunde Olatunji, the Nigerian-born musician, singer and visionary left his earth suit to join his ancestors on the "other" side. 
A resilient spirit, Baba's last wish was to see all the countries of Africa unite in a powerful nation. Through the universal language of drums, this great shaman brought people of all backgrounds and colors together.  During his last year as a resident of Esalen in Big Sur, Olatunji suffered from many illnesses especially diabetes and heart failure. I remember the first time I meet the frail elderly man. Almost blind with only eight fingers left, Baba was still teaching workshops. His voice was strong, his mind was sharp and his desire to live was fueled by his enormous faith.  He taught me much more than drumming and the dance of life. 
I volunteered to be one of his caretakers at night after he came back from surgery last fall. During these few intense weeks, I was exposed through experience to the humble path of Bakti yoga. Although I had read about the path of selfless service nothing had prepared me for it. Total devotion to another physically helpless human being was much harder than vipassana, ashtanga or power yoga combined.
Suddenly, my flexibility and patience were tested in a new way. Compassion and humor were my only tools against the frustration, the pain, and the fear of an agonizing old man. I felt powerless, angry at times, to have fallen into an abyss of suffering.
It was certainly one of the hardest tasks I have ever done, yet I am grateful for it. I also developed a new appreciation for music during the sleepless hours of Baba listening to Ali Farka Toure.  As a transparent link between Earth and the Ether, voice and traditional instruments bridge the world of dreams and reality. 
May the Infinite Intelligence of the Universe bless Baba in his crossing.
To find out more about Olatunji, go to: olatunjimusic.com
Read next >> beyond the veil