raw raspberries cupcakes
Published: 06-05-2014 - Last Edited: 12-08-2021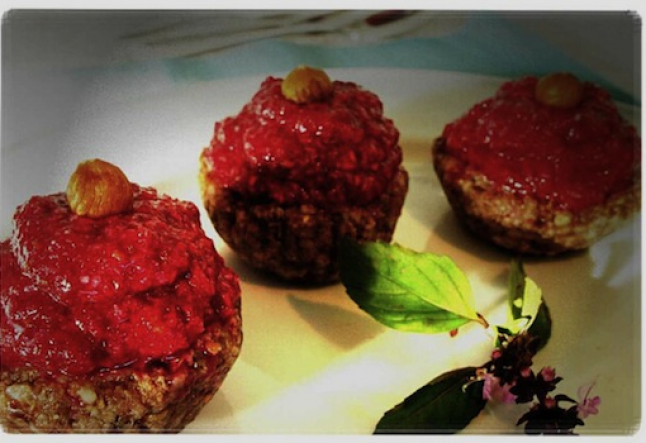 a taste of spring
Nuts are considered super foods, as they pack so many nutrients in a small food. They are packed with essential fatty acids and Vitamin E. Vitamin E plays an important role in protecting the nervous system and providing the body with anti-oxidants. According to Ayurveda, all nuts should be soaked in water, so we can enjoy them without their dryness effect.

For the cupcakes

Soak the nuts one day in advance.Ӭ Crush all the nuts in the blender and add the vanilla essence.

Pour into a bowl and add the crushed flax seeds and the lemon drops. ӬMix it all together well with your hands. ӬCheck the consistency, you might have to add some drops of water so the mix binds well together. Use 4 cupcakes forms and start to shape them.

For the frosting
Mash the raspberries together with the coconut oil and add the crushed wheat bran. Mix well and let it rest in the freezer for 20 minutes to gain some solidity.

Top your cupcakes with the raspberries; you can do it with a pastry syringe or with a small spoon. Garnish your cupcakes with a hazelnut or a raspberry.
It's ready to serve, enjoy!