Rassouli
Published: 30-03-2011 - Last Edited: 29-01-2022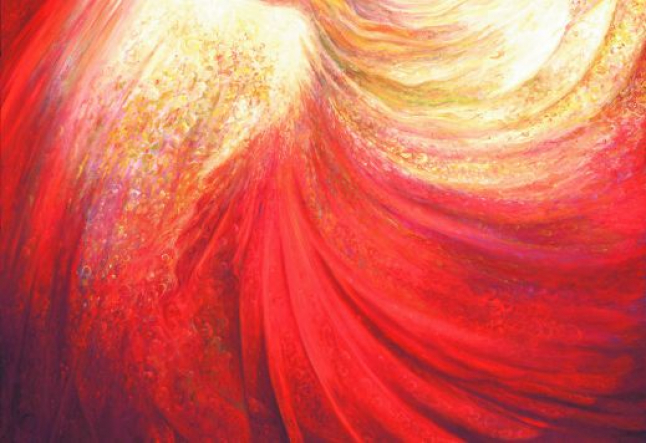 Freeydon Rassouli's internationally acclaimed artwork portrays the consummate fantasy, transcending the intellect through romantic abstraction. Blending eastern ideology with western technology, "Fusionart," his registered trademark, transfuses light through a palette of vibrant hues born from a black canvas.

Mesmerizing patterns and spiraling dimensions harmonize life and beauty, proclaiming love and joy. "I don't paint from sketches, work on location or use photo's," explains Rassouli. "I climb mountains before dawn, sit in solitude and observe the sun rise. I watch plants open their leaves, buds tear their dresses and birds sing to the Creator's arrival. It's intuitive fuel that inspires me to paint mindlessly from a canvas primed black, with a timeless inner presence."

Inspired by mysticism, poetry, meditation and Rembrandt, Rassouli transforms subconscious figures into visual poetry; illuminations that today span the globe.

Self-described as a creative force, metaphysical expressions of femininity, beauty, and light serve as his "ambassadors of the divine." Waves, vortexes and hugely feminine figures weave tales of cosmic unity, philosophy and imagery. "Cosmic unity surrounds Fusionart, connecting serenity and imagination to exist as divine unity," he continues. "Relationship serves as the most important aspect of my work. Interrelations and the reactions between the parts of the whole are more important than the parts themselves."

Born in Isfahan, Iran, Rassouli studied painting in Europe before migrating to the University of New Mexico to pursue art and architecture. Although he began his professional career as an architect, painting beckoned the expressionist beyond three-dimensional structures.

Learning from the classics, Rassouli ventured through the genealogy of art to its technology, from realism to surrealism, from symbolism to expressionism, evolving to become a 20th Century icon of surrealistic abstraction.

"Among the swarm of mechanical copyists of the externals, Rassouli forcibly conveys the actual sensations of life," states Alberto Gamberoni, Art Critic from Rome Italy. "His objective reality is merely a theme for the creation of a higher sublimated reality into which his personality is infused." Murals include "Angel Unity" which landmarks Washington Blvd. in Venice, CA and "Mural of Creation" which links three walls in downtown Los Angeles. Book, magazine and CD covers complete Rassouli's list of artistic accomplishments.
rassouli.com – 4642 Louise Avenue, Encino, California 91316 – 818.995.0726