warm roasted pumpkin and potato vegan salad
Published: 26-11-2013 - Last Edited: 17-10-2022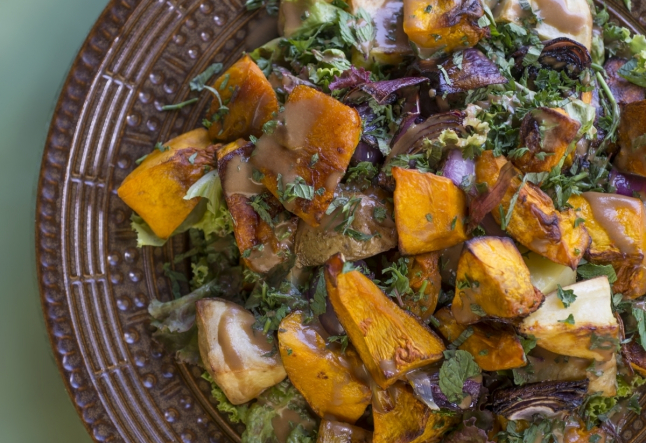 pumpkin potato vegan salad healthy
Heat oven to 200 degrees celsius.
Peel 1 small pumpkin. Chop pumpkin into 10 cm chunks.
Chop 3 potatoes into quarters. Chop 1 red onion into quarters
Place chopped pumpkin and potatoes on a baking tray. Drizzle with 1 Tbsp olive oil. With your hands massage the olive oil over the vegetables. Place the tray with vegetables into the oven and roast for 20 minutes.  
Chop 1 bunch of parsley. Chop 1 bunch of mint.
In a salad bowl place the lettuce leaves, the chopped mint and parsley.
For the dressing: Peel 1 garlic clove and place in a glass jar. Add 1 Tbsp of dijon mustard. Add ¼ cup of olive oil. Add ¼ cup balsamic vinegar. Place a lid on the jar and shake well.
To serve, remove the roasted vegetables from the oven. Place into the salad bowl with the lettuce leaves. Pour over the dressing and mix well.
Recipe by ifeelgood.com.au
Check this recipe >> vegan carrot yam soup