Voyage to India
Published: 08-03-2011 - Last Edited: 29-01-2022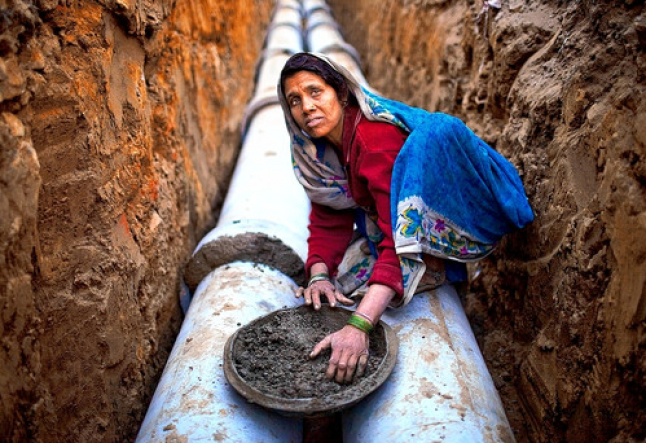 Voyage To India Travel Deepen | India Yoga Practice Opening Spiritual Quest
In 1984, after teaching yoga and meditation for 10 years, I decided to take time off to deepen my
practice
. With a calming breath, I made the move to India to study with the masters.
Recently, I found entries in the journals I kept during the nearly three years that I spent traveling as I studied and absorbed the teachings and culture. It was an extraordinary journey into the unknown.  I was blessed to visit with teachers such as Satya Sai Baba, the Sri Aurobindo Ashram, Sri Satchidananda, Krishnamurti, B.K.S. Iyengar and Goenka. I am forever grateful for the  time I gave myself to absorb the paradoxical extremes of 'Mother' India.  Here is an excerpt from my first trip that I would like to share with the Yogitimes readers:
India is a mine of spiritual wisdom and treasures. It is digging deep and long amid a sometime horror of slime, filth and poverty.  
There is the contrast of absolute overwhelming beauty and serenity of the land and earth. There are few countries with the enormous variety that India has to offer and it's a place that somehow gets into your blood. It can be very hard going, the poverty is dismal and Indian bureaucracy can try the patience of a Hindu saint. There are bound to be tests on the way when you tread the spiritual path (strange are the ways of the Divine!) and India seems to find out the weak spots and presses on them.
India changes people and I have been no exception. Traveling throughout India is a constant test of faith. I have not yet traveled on a bus that has not been packed to the bursting point. They are so old and dilapidated that they shake up every bone in the human body, and every screw and bolt of their own.  It may not always be fun but it certainly is an experience.  For getting around in the cities there are taxis, auto-rickshaws (the drivers are risky and collisions are not infrequent), cycle-rickshaws and bicycles.
This pilgrimage has opened my eyes, ears, heart and mind. It requires practice and much patience. My attention is directed to the charm of a flower, the colorful magnificence of a sunrise or sunset, the grandeur of an overcast day, the twinkling of the stars in the midnight sky or the moving of birds in flight. I am in ecstasy. India is a place not to just see but a total experience. An assault of all the senses, a place I will never forget and will return to again and again.
Read more about India here: