persimmon and pomegranate salad with arugula and hazelnuts
Published: 27-10-2011 - Last Edited: 16-12-2022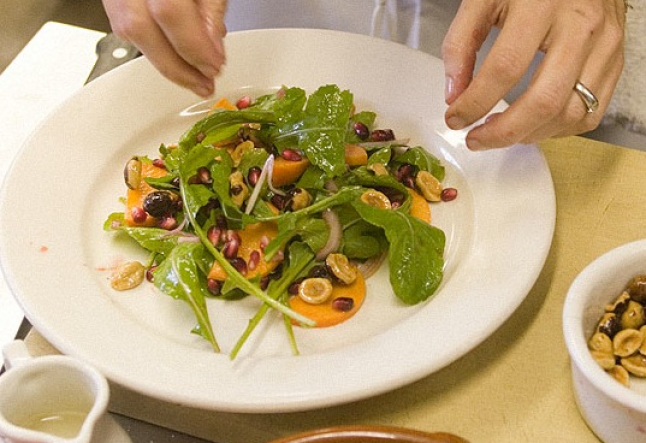 Suzanne Goin has graced the kitchens of some of the most renowned restaurants in America, including Boston's Olives and California's consummate culinary institution,
Chez Panisse
, where she gained superlative training from cooking legend Alice Waters.
She and business partner Caroline Styne are the owners of dining hot spots A.O.C. and Lucques. She also opened the unassuming yet casually sophisticated Hungry Cat in Hollywood with her husband and fellow chef, David Lentz, adding yet another gem to her culinary crown.
By seeking out and working closely with local farmers to use only organic produce and wild or naturally raised products whenever possible, Goin aims to prove that ecological sustainability and financial sustainability can coexist in the restaurant business.
persimmon and pomegranate salad with arugula and hazelnuts ingredients
1 tablespoon plus 1 teaspoon hazelnut oil
1 tablespoon diced shallots plus 2 tablespoons sliced shallots
3 tablespoons fresh pomegranate juice
1 tablespoon sherry vinegar
2 teaspoons rice vinegar
2 tablespoons extra virgin olive oil
1/2 pound arugula
1/3 cup pomegranate seeds
2 small fuyu persimmons, seeded and thinly sliced
how to prepare persimmon and pomegranate salad with arugula and hazelnuts
Step 1. Preheat the oven to 400 degrees. Toast the hazelnuts on a sheet pan approximately 8-10 minutes, until they smell nutty and are a light golden brown. Remove them from the oven and toss with one teaspoon of hazelnut oil and salt. When they have cooled, chop roughly.
Step 2. Place the chopped shallots, pomegranate juice, sherry and rice wine vinegars in a medium bowl with a one-fourth teaspoon of salt. Let the shallots macerate for 5-10 minutes. Whisk in the olive oil and the remaining one tablespoon of hazelnut oil. Taste and adjust if necessary.
Step 3. In a large salad bowl, toss the arugula, sliced shallots and pomegranate seeds with the dressing, a pinch of salt and pepper. Gently toss in the persimmons and hazelnuts. Toss again and taste for final seasoning.
Don't miss our Special Guest Interview with Suzanne Goin lucques.com
Read next >> eggplant zucchini parmigiano