"Finding Joe" and Finding How To "Follow Your Bliss"
Published: 11-10-2011 - Last Edited: 07-11-2022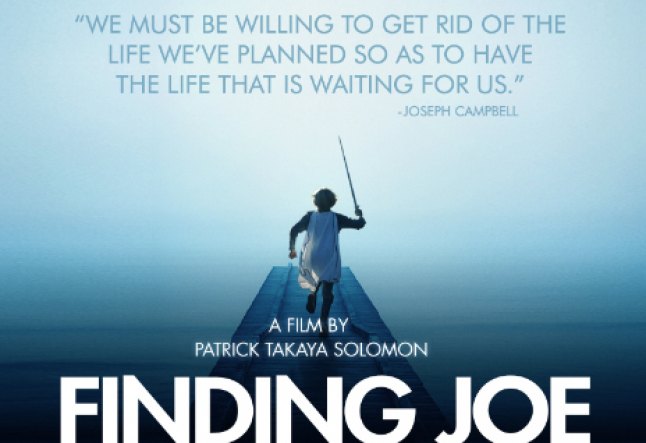 YOGI TIMES Interview with Patrick Solomon, Director of "Finding Joe"
Finding Joe watch online here below | The movie "Finding Joe" is a rich and inspiring exploration of famed mythologist Joseph Campbell's (1904-1987) pioneering studies into what he dubbed "the hero's journey" and its continuing impact on our lives and culture.

Directed by Patrick Takaya Solomon, the documentary spotlights Campbell and his hugely influential work through interviews with a who's who of writers, artists, entrepreneurs and visionaries including author and public speaker Deepak Chopra, Academy Award®-winning screenwriter Akiva Goldsman (A Beautiful Mind), director Catherine Hardwicke (Twilight) and surfing legend Laird Hamilton.
Watch Finding Joe online here below [Full Movie]
"Finding Joe" shows how Campbell's work is relevant and essential in today's world and how it provides a narrative for how to live a fully realized life""or as Campbell would simply state, how to "follow your bliss".
Also Read>>> Our Favorite Spiritual Movies
Director Solomon began his career shooting action sports films on snowboarding, motocross and skateboarding, and has spent the past 12 years directing commercials.

He began work on "Finding Joe" in February, 2009.
Yogi Times had an opportunity to discuss "Finding Joe" with Patrick Solomon and delve into the meaning behind Campbell's philosophies.
YT: When did you first get introduced to Joseph Campbell's work?
PS: I was in high school when I first heard about Campbell but the Moyers interviews (the PBS series "The Power of Myth," a collaboration between Campbell and Bill Moyers) really got me hooked. I turned into a full Campbell geek after that.
YT: What was your inspiration behind making "Finding Joe"?
PS: The actual catalyst is hard to define. I had been thinking about doing the film for years. I was going through some personal crises and I think the confluence of ideas and crises' created a spark and I just started.

Also, although I really liked them, the Moyers interviews seemed very dated. I kept asking myself how I would have shown Campbell's idea"¦ what images would I use?
YT: You say that Joseph Campbell is one of the reasons you became a director. Can you describe that turning moment in your life?
PS: Yeah, I really liked shooting film but I never saw it as a career or a lifestyle.

Then Joe Campbell came along and said "follow your bliss" and I latched onto that idea like a dog hangin' onto a bone. All of a sudden filmmaking was a priority and everything else went by the way side.
YT: How does one start their own hero's journey? What are the practical steps to take?
PS: That is GREAT question! One we tried to answer in the film. When you follow your bliss, you are on the hero's journey.

It's that simple. How do you find your bliss? Hmmmm… Usually you have a sense of what turns you on and what doesn't but if you don't then just go watch the movie!
YT: What will people learn or understand of Joseph Campbell's phrase, "follow your bliss" from seeing Finding Joe?
PS: I think the film gives you a sense of clarity on what that phrase is and, more importantly, what it isn't. It's not an excuse to go party for the rest of your life.

It's more about discovering those things that bring you the most authentic joy and sticking to them. That's hard to do in this society.
YT: Through the filming, you must have gotten to know Joseph Campbell's philosophies through and through. Was there an "aha" moment or personal awakening you had as you made this movie?
PS: The biggest "aha" I had was this: (Forgive me for sounding crazy.) The hero's journey is everywhere. It's the filter by which humans use to make sense out of what they experience.

From the very profound to seemingly trivial, we give everything a beginning, a middle and an end"¦. We turn experience into stories.
YT: What's your most cherished Joseph Campbell quote and why?
PS: "The privilege of a lifetime is being who you are." I like this because, like most of his ideas, it is very easy to say and very hard to experience. I like that for some odd reason.
YT: What is the one thing that you wish for people to learn or take away from this movie?
PS: To be so inspired that you take action. To watch this film then go out into the world and do something!

Take one small step on the journey that is your life and know that there is nothing more important!
Watch the trailer for "Finding Joe"
Read next >> gregory colbert ashes and snow