passage to india
Published: 21-02-2011 - Last Edited: 12-08-2021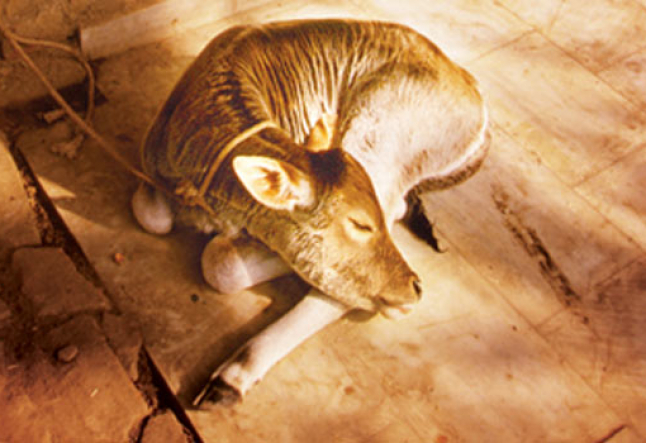 Some travels take you to other countries. A journey to India, however, transports you to another realm. Once there, nothing looks the same. How could it? Colors are more saturated, contrasts are heightened and the ethereal becomes more tactile. There's no going back. The senses have been heightened and the soul has been touched.

Where does one start such a journey? It can take many forms. In my case, it came through an invitation to accompany a meditation group called Hard Light, based in Malibu. Led by an engaging guru named Mark Griffin, the group practices Siddha yoga meditation and the Saivist tradition of metaphysical transformation.

A visit to Varanasi and a meditation program was planned by the group to coincide with the Hindu festival of Shivarathri, which celebrates the descent of Lord Shiva to Earth here in this sacred city. Known by many other names, including Benares and Kashi, Varanasi is a city of incalculable complexity and dimensions. Considered the oldest continuously inhabited city in India and one of the oldest communities on the planet, Varanasi exudes mysticism and chaos simultaneously. In other words, it's a perfect analogy for India.

My arrival here is typically disorienting as my cab driver navigates traffic circles that are vortexes of chaos. A kaleidoscope of colors and motion converge here as moto-rickshaws, bicycle rickshaws, cars, scooters, bicycles, pedestrians and the ever indolent cows vie for the road.

As the roads narrow to alleyways, the intensity seems to increase proportionately as the ancient passages pulse with activity in the precious space. Finally, the road ends during our search for my guesthouse as we approach the ghats, or river steps, situated alongside the city's lifeblood, the legendary Ganges.

Now on foot, I have the first of many metaphor moments as my overstuffed backpack feels like an analogy for Western overabundance. Approaching a building that looks as though it has been through an air raid, I see my destination, the Ganges, or Ganga as it is known to Indians, framed by crumbling walls.

Like seeing the Taj Mahal for the first time, I feel it in my solar plexus before my eyes even register what is before me. I note the Ganges' curious path here, where it diverges from its southeastern direction to bow northward in a serpentine shape. In Varanasi, it is a slow moving expanse with broad tidal flats on its eastern shore, exposed now during the dry season. On its western side, the river's edge brims with structures erected by various kingdoms and dynasties. Seemingly, only carbon dating could accurately predict the age of these edifices burnished by countless sunrises and sunsets. Their cracked and peeling grandeur is poetic.

Spiritual Bootcamp

Things get more interesting the next morning, the first of the five-day meditation program. For a neophyte like myself, the approximately 10 hours of meditation a day loom as large as the summit of Mt. Kailas. The routine includes meditation at daybreak, followed by three other sessions of roughly two hours each throughout the day and into the night, interspersed with breaks for meals and rest.

My unfolding routine has me waking every morning around 4 am to the sound of devotional music blaring from across the river from a large camp of sadhus, or holy men. Rising, I make my way in the predawn darkness down a small twisting alley to the meditation hall, a 200-year-old structure originally built as a sort of commons for visiting Brahmin priests that presides over an area called Raja Ghat.

Inside the meditation hall, garlands of flowers exude their perfume, incense curls and traditional ghee candles light alcoves where statues of Hindu deities dance in the flickering light. But the most intricate work remains what is going on inside the participants.

At the center of this introspective intensity is Griffin, an American spiritual leader who for years was associated with the renowned Swami Muktananda. Griffin was an art and music student in the Bay Area when he first encountered Muktananda and his teachings, and went on to travel the country with him for several years.

With Muktananda's passing, Griffin has gone on to establish his own practice continuing Muktananda's lineage, drawing an eclectic group of followers including teachers, business people and students.

In between the meditations, Griffin enters into deep discussions about topics such as the dynamics of the shumshuna column of energy and its manifestation in various charkas, from the coiled snake of Shakti in the root, to the lake of Shiva consciousness at the crown of the head.

During my meditations, I am sometimes moved deeply, literally to tears. Other times, especially during the last session of the day, fatigue and disconnect challenge me to summon all of my will just to stay alert and awake.

I realize sounds and color are more intense to me, more penetrating than I remember. My eyes, newly sharpened, follow the river northwards until it seemingly disappears into the haze of infinity, or possibly another dimension. Something has changed and I know I am in the right place at the right time. We can't ask more from life than that. I continue down the narrow passage and into the morning sunlight. This journey is ending now, but another awaits as I make my way home. Going to take a meditative journey?
Mark Griffin's meditation sangham or group:
Hard Light Center of Awakening | 11301 Olympic Blvd #402. | W. Los Angeles, CA 90064 – 877.325.4448 – hardlight.org
Read more on India here:
a memory of india
pilgrimage to india
indian adventure
a traveler's notebook of india