organic farms of the california coast
Published: 16-08-2011 - Last Edited: 02-10-2022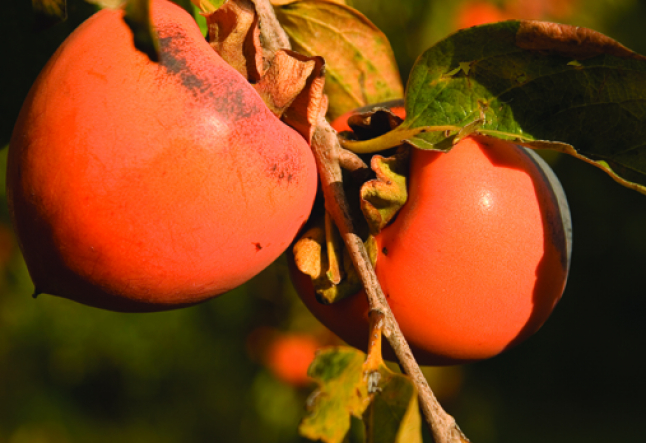 savor the source
There's something wonderfully comforting and instinctive about eating seasonal foods. Many of us regularly seek out fresh, organic produce by frequenting our local farmer's market, shopping at organic grocery stores or visiting our favorite restaurants where we trust the finest products are being used. But have you ever wondered who supplies them? 
In our special food issue, Yogi Times takes you on an exploration of seven distinct farms from San Diego to San Francisco. If you've never visited a local farm in person, this winter, take an adventure through the hills and dales of the California Coast and enjoy some of its seasonal fare. 
1. Capay Organic Farm 
Beautifully nestled in the Costal Range's Capay Valley, this family-run farm has been providing the highest quality, organic fruits and vegetables since 1976. You can visit their retail store in the historic San Francisco Ferry Building or have your own selection of seasonal fruits, vegetables and greens delivered right to your front door through their aptly named service, "Farm Fresh to You." A variety of fresh products are available on the farm's website, but the "Snack Pack" caught our attention. This tasty selection of organic fruits and nuts offers a healthier alternative to your usual "office treats" and can be delivered to your office too!
Capay Fruits & Vegetables
23808 State Highway 16
Capay, CA 95607
800.796.6009
farmfreshtoyou.com 
2. Chino Farms
Many of Southern California's finest restaurants obtain their produce from the Chino Farms Vegetable stand located in Rancho Santa Fe. If you happen to come here in the morning to get a sample of the farm's bountiful harvest, chances are you'll be lining up with many of the region's top chefs. Among the farm's quality produce are succulent, heirloom tomatoes, a vast array of squashes, fava beans, aromatic melons, Jerusalem artichokes, strawberry figs and Concord grapes. Depending on where you live, visiting Chino Farms can be a scenic day trip off the beaten path. Cast your eyes on nature's beautiful surroundings and your taste buds will thank you too. 
Chino Farms
6123 Calzada del Bosque
Rancho Santa Fe (off Via de la Valle, S6)
858.756.3184
3. Flora Bella Farm
Located in the Sierra Nevada foothills and nourished by the Kaweah River, Flora Bella Farm is committed to respecting the natural cycle of the seasons. Flora Bella grows a vast selection of highly nutritious, organic produce throughout the entire year. For those coastal Californians who do not wish to be left behind, Flora Bella Farm's certified organic produce can be purchased directly from farmer James Birth at the Santa Monica Market or the Hollywood Farmers Market. A visit to Flora Bella is a rare experience and some of the finest Los Angeles restaurants are already in the know. Chefs from Table 8, Campanile, Buffalo, Lucques, The Little Door and AXE in Venice also stock their produce.
Flora Bella
41849 N. Fork Drive
Three Rivers, CA"¯"¯ 93271
florabellafarm.net
559.561.3130 
4. Tutti Frutti
In Italian, "tutti frutti" means "all fruits" and fifth generation farmer Chris Cadwell is dedicated to giving you his everything. On more than 200 acres of hillside property overlooking the Pacific Ocean's Channel Islands in Carpinteria, Tutti Frutti Farms grows organic produce all year round. They sell their produce through many California farmers markets including those in San Luis Obispo, Morro Bay, Lompoc, Goleta, Santa Barbara, Carpinteria, Ventura, Ojai, Thousand Oaks, Santa Monica, Hollywood, and Beverly Hills as well as through nationwide organic specialty distributors. Among the goodies you will find here are: heirloom tomatoes, heirloom carrots, burdock root, organic potatoes, leeks, butternut squash, a variety of peppers and the rarest apples for seasonal pies!
[email protected]
5. McGrath Farms
McGrath Family Farms is a long established vegetable farm located in Ventura County. After taking over the farm's operations, Philip McGrath (more commonly referred as Farmer Phil) decided to switch from conventional to organic farming in 1995. Philip grows a wide array of seasonal vegetables throughout the year on the 30 acres that comprise his ranch. Everything is sold locally either to restaurants or farmers' markets in Santa Barbara, Los Angeles and Ojai. Farmer Phil sees education as the key to extending sustainable farming and also offers farm tours to schools, sharing his passion for farming life with the younger generations!
McGrath Farms
1012 W.Ventura Blvd
Camarillo, CA 93010
805.983.1211 
6. Vital Zuman Sustainable Farm
If you're looking for a scenic drive along the Pacific Coast Highway, stop and visit Vital Zuman Sustainable Farm in Malibu. Growing and marketing certified, naturally-grown produce fifty-two weeks a year, Zuman Sustainable offers a variety of fruits, summer and winter vegetables, raw honey and other specialty items. If you are charmed by the field trip, you can always sign-up for a co-operative agricultural retreat. In exchange for instructional volunteer participation, the farm offers same-day harvested, naturally grown food. Produce by Vital Zuman Sustainable Farms can also be found at Santa Monica Farmers' Markets.
Vital Zuman Sustainable Farm
29127 Pacific Coast Highway
Malibu, CA 90265
310.457.4356
vitalzuman.com
7. Be Wise Ranch
Be Wise Ranch is run by owner/managers Bill and Marsanne Brammer along with their team of dedicated employees that have been farming since 1977. Their philosophy that improving the soil will improve the taste of their fruits and vegetables seems to be working. If you're based in San Diego, you too can join the 600 other families that participate in Be Wise Ranch's Community Supported Agriculture project, a venture they started in 1993. This community-driven initiative encourages responsible, sustainable stewardship of a local organic farm while enjoying nutritious and tasty fresh produce all year round. Be Wise Ranch produce can also be found at local health food stores such as Jimbo's in Escondido, Del Mar, Carlsbad, Cream of the Crop in Oceanside, Whole Foods produce market and People's Food Crop in Ocean Beach.
Be Wise Ranch
9018 Artesian Road
San Diego, CA 92127
858.756.3088
www.bewiseranch.com
This article was written in collaboration with nathalie horter

You also might like to read about california vegan.