discover the art of teaching yoga online
Published: 19-04-2023 - Last Edited: 28-05-2023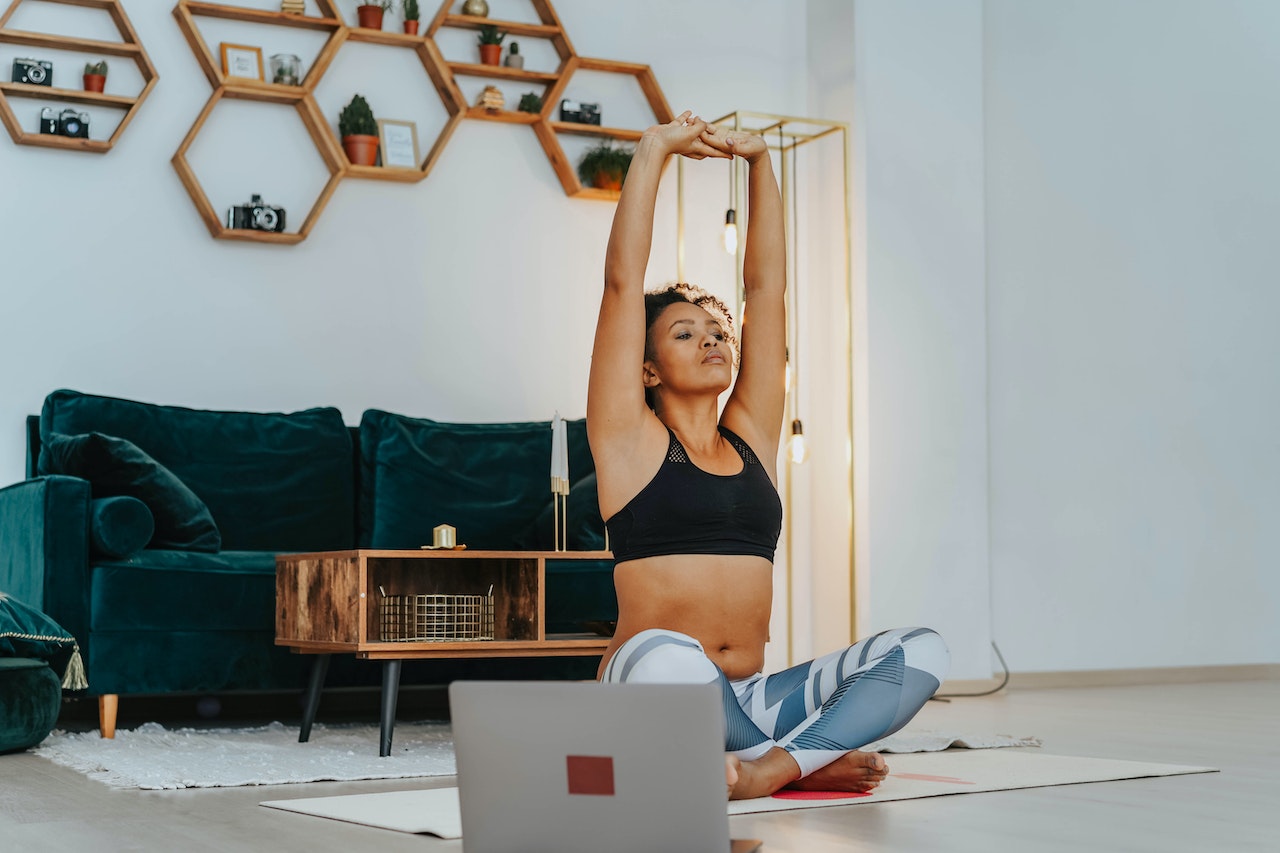 Yoga: A Definitive Definition
Yoga is a time-honored discipline that has been shown to improve health in all aspects of one's existence. Yoga has been practiced for generations in India as a means of finding one's sense of calm and equilibrium. Asanas (postures) are practiced in yoga, along with meditation and attention to one's breath (pranayama). One's body, mind, and spirit may find harmony via the discipline of yoga.
Yoga's physical postures and movements improve the body by training the muscles and increasing flexibility. Yoga positions may vary from easy stretches to more strenuous activities. Strength, stamina, flexibility, and the ability to withstand stress are just some of the benefits of a regular practice regimen.
Stress may be mitigated by meditation by training one's mind to be at peace and present. Pranayama is a set of breathing exercises that raises one's vitality and mindfulness of breathing. As a result, regular yoga practice may provide mental and physical benefits.
Online Yoga Instruction: Pros and Cons
Now that we've covered what yoga is, let's talk about the various advantages of teaching yoga online. There is a lot of evidence that yoga is good for your physical and mental health, and one of the best ways to spread the word is via online classes. Besides the obvious health benefits, teaching yoga online also has its own set of perks that appeal to yoga teachers.
One obvious benefit of teaching yoga online is the time and energy savings it may provide. As long as they have access to the internet, teachers may conduct their lessons from anywhere in the globe. Because driving to a studio or hiring one may be time-consuming and costly, this removes both options. As an added perk, teachers who want to teach online may set their timetables and work their lessons around their other obligations.
Having yoga classes available to more people is just another perk of holding them online. Teachers may now connect with pupils all around the globe through video conferencing, even those who might not have the financial means to go to a classroom. The internet has made it much simpler for yoga teachers to network with other experts in the area and form lasting friendships with students and colleagues who share their enthusiasm for the practice.
Online yoga instruction not only makes yoga more accessible and convenient, but it also offers a wealth of career advancement possibilities. Teachers may always become better at what they do by reading up on new methods, trying out new approaches, and keeping up with the latest developments in their profession. They may watch recordings of their lectures to assess how they're doing and where they might improve their teaching. By making use of these resources, online teachers may guarantee that their students always get effective lessons.
Yoga Teacher Requirements
Various conditions must be fulfilled before an online yoga teacher training may provide their services to students. Having a solid foundation in yoga theory and technique is the first step. A yoga teacher should be well-versed in the tradition's origins and tenets, as well as its many schools and the variety of postures they use. They need to know about the human body and how it works so that they can guide their pupils to develop their practice style.
As a corollary, you must also have previous experience instructing students in a classroom setting. With this information, teachers may better adapt their strategies for online education. They'll have to become familiar with video conferencing and other technologies crucial to providing a high-quality digital service. Teachers will also need to develop a curriculum that is optimal for online instruction.
Last but not least, teachers must have a firm grasp of modern technologies and an effective command of the English language. They need to be able to articulate ideas properly and respond to students' inquiries throughout the class. To keep their students interested and engaged, teachers in online courses need to be energetic and charismatic. Success in online yoga instruction is more likely if these conditions are met.
Equipment That Is Required for Online Lectures
Several necessities are for an online yoga lesson to go off without a hitch. Having access to the internet through a computer or mobile device is the first need. By doing so, you may connect with your pupils and provide them with the resources they need to improve their skills. And if you have access to video streaming software, you can even record your lectures and make them available online for later viewing. To ensure your students can see and hear you throughout the session, you'll also need a high-quality camera and microphone.
Having a sturdy yoga mat is also essential. Your student's safety and comfort while practicing yoga postures depend on your having a high-quality mat available to them. Blocks, belts, and blankets are all great examples of props that may be used to facilitate more complex poses and motions. Last but not least, it's crucial to have a fixed classroom location if you want to foster an open environment and foster a feeling of community among your pupils. This might be anywhere, from a quiet nook within your house to, if the weather permits, the great outdoors!
Establishing a Proper Setting
A good online yoga session relies heavily on the instructor's ability to set the appropriate mood for their students. Have the necessary equipment and software ready to go so that your kids may have fun while learning. This entails preparing an optimal environment for the camera, microphone, and lighting. Make sure your pupils have adequate room to stretch out and perfect their positions.
It is also crucial that the pupils can see and hear you properly throughout the class. To ensure that whatever you say can be heard, check the mic's sound quality. In a similar vein, make sure the lighting is good so that your pupils can see you and follow along.
In the end, make sure you and your pupils are relaxed by adding things like music, pictures, and scented candles. This will help create a positive environment for each session and motivate students to continue practicing even when they can't be in a regular studio.
Planning Effective Lessons
Making a well-thought-out lesson plan is crucial for successful online Yoga instruction. First, you need to establish what you want to achieve with your class. This will allow you to make decisions about the session's format and content as well as formulate a strategy to pique the interest of the pupils.
The next step is to identify suitable postures based on the style of Yoga being taught. Students' skill levels and physical capabilities must be taken into account. One way to accomplish this is to talk to each student individually before class or to ask them to disclose their degree of expertise during the registration process.
After you've settled on the necessary poses for the routine, you can begin to plot out their order. In addition to ensuring students' safety, a well-thought-out sequence of poses may help create a flow that draws attention to the breath and helps students discover space inside each pose. A well-thought-out framework for instruction may provide a secure environment in which students can experiment and hone their skills without risking their education.
Making Interesting Pictures And Videos
Adding graphics and films to your online yoga courses is a great way to keep students interested and involved. Provide a visually engaging experience for your pupils by making use of vivid colors and high-quality photos. Most importantly, check that the pictures are appropriate for the lesson. To demonstrate how to achieve a position to impart an alignment cue, for instance. Pose and sequence demonstration videos filmed on video may also be utilized. They show pupils how a posture should appear when done properly and are a great visual aid for teaching.
Make sure your films aren't too long and boring for your pupils by keeping them to the point. Include cuts between poses and music (if used) to keep the viewer engaged. To let your students understand the precise movements they need to make to attain appropriate alignment, video yourself doing a sequence or even just one pose at a time is a terrific method to accomplish this.
If you want your pupils to pay attention during each lesson, you need to find innovative methods to integrate visuals and videos. Yoga teachers may use these guidelines to build online courses that will keep their students interested and engaged.
Recognizing the Varieties of Instructional Methods
An important first step in establishing oneself as an online yoga teacher is mastering the fundamentals of producing captivating graphics and videos. Now, it's crucial to grasp the many ways in which students take in and make sense of knowledge.
It's crucial to keep in mind that not all pupils will acquire information in the same manner because of the wide variety of approaches to learning. Some individuals may learn better by observing others, while others gain more through interactive methods like group discussions or hands-on exercises. You need to take into account the diversity of your student body and their unique requirements for success to create a stimulating and productive classroom.
Providing students with a variety of ways to participate and learn is one method to boost the quality of an online yoga course for everyone. One technique to reach out to both visual and interactive learners is to combine brief visual presentations with questions that encourage active engagement from the students. Besides oral and visual demonstrations, you might provide students with written guidelines, audio recordings, and even group projects.
The effectiveness of an online yoga course depends on the instructor's ability to personalize the material for each student based on his or her preferred method of learning.
Creating Your Teaching Method
The internet has made it possible for yoga teachers to reach a global audience and spread their expertise. A teacher's ability to connect with and inspire their pupils depends on his or her ability to build a distinctive teaching style. There are several guidelines you may follow to do this.
Prioritize comfort while designing your classroom. Be sure to provide participants with encouraging comments and promote two-way communication to help them feel at ease and encouraged throughout their practice. This will contribute to the development of a social setting where people may teach and be taught by one another.
Secondly, while instructing yoga online, it's important to make extensive use of visual aids. If you have students who are unable to physically attend classes, you may want to consider using instructional videos or still images of postures to convey your message. As a bonus, this might assist maintain your audience's attention on the information you're delivering.
Lastly, try out several approaches to education to see what clicks with your kids. Get to know your students and the methods of education that work best for them. Just keep trying new things until you find a tone that works for you and your audience.
Adding Value Via Technology
Technology may considerably improve online yoga lessons. A virtual classroom may be designed by the instructor to meet the specific requirements of their pupils. Live streaming sites, video conferences, audio recordings, and chat rooms are just some of the internet resources that may be used for this purpose. With the help of these tools, educators may provide their pupils with an interactive learning environment.
One of the finest methods to set up an online yoga class is via the use of video conferencing. The instructor may check in on each student and see their progress in real-time. Teachers may direct their classes more effectively by both verbally instructing them and demonstrating the desired postures and positions using this technology. Moreover, video conferencing facilitates accommodating students of varying skill levels and other demands.
The use of real-time video streaming is yet another advantageous tool for yoga instruction in the virtual realm. Teachers may reach more students than just those in their classrooms by broadcasting their lessons live on sites like YouTube or Twitch. It's a win-win for everyone involved: instructors can reach more students and those students can feel as if they're part of a real classroom community thanks to the broadcast's interactive features.
Using technology in a virtual yoga session is a fantastic method to engage both the instructor and the students. Teachers' ability to create a stimulating classroom environment using appropriate technology and methods is crucial to the success of any educational institution.
Engaging Students With Social Media
We've already covered how yoga teachers may utilize technology to better engage and communicate with their students in class, but social media provides still another avenue for doing so. Relationships, educational support, and a sense of shared purpose among yogis may all flourish in the virtual space provided by social media.
Teachers should use social media to communicate with their classes. This might take the form of anything from answering comments to posting useful articles or photographs to asking questions or offering suggestions. Teachers who use social media to engage with kids demonstrate their dedication to the profession and their desire to build meaningful relationships with their charges.
As with any resource, social media may be put to academic use. It's a great resource for yoga instructors to learn new techniques, explore new approaches to their practice, and keep tabs on their favorite yogis from across the globe. Teachers may keep their students interested in their lessons by keeping abreast of yoga research and practice.
Methods of Payment Establishment
Establishing a straightforward method of online payment is crucial if you want to make money instructing yoga remotely. PayPal is a popular choice since it lets students use their debit or credit cards to make payments. If you don't have a PayPal account, you'll need to get one. After registering, you'll be able to establish and modify your prices.
A third-party platform, such as Stripe, is another alternative that may provide a more streamlined payment procedure. You can forget about manually inputting each transaction since Stripe handles everything for you. Subscription options, billing, and security against scams are just some of the extras it provides.
Make sure the method of payment you choose is safe and simple for both you and your students to utilize. Try out the various choices and check out the feedback of other educators before making a final selection. As a result, you may be certain that the system serves the needs of all parties.
Efficient Time Management
After establishing a method of receiving cash for your yoga lessons, you can shift your attention to time management. This is not always easy to figure out since there are numerous variables to think about, such as the length of each class, the frequency of sessions, and the amount of preparation time required for each class.
To begin, it's vital to settle on a time frame for how long each yoga session will continue. One hour of instruction may sound ideal, but this might be too short or too long for your students and the kind of yoga you're teaching. Be sure that you can cover all that has to be covered for a certain yoga level or style in that time frame.
Determining how frequently courses should meet is just as important as deciding how long each session will be. How you handle this will rely heavily on the requirements and availability of your pupils. Offering many lessons each week at various times may appeal to them if, for instance, they want to have more schedule freedom. But, if they would benefit more from regular lessons held at the same time each week, this may be a win-win situation.
You can provide your online yoga students with a great experience if you take the effort to organize a payment system and schedule your lessons efficiently. You may help individuals achieve their objectives by teaching yoga online if you put in the time and effort to prepare and anticipate what will work best for you and your students.
Conquering Technological Obstacles
It might be challenging to teach yoga classes online due to technological difficulties. Issues with the video or audio might impede students from having a positive learning experience. That's why preventative measures are so crucial: they help avoid the problems in the first place.
As a first step, check that you have sufficient tools. Investing in a high-quality camera and microphone can do wonders for the professionalism of your lectures. Moreover, it is crucial to take the time to try out your setup in advance to make sure it is conducive to learning.
Lastly, if you have trouble with technology in class, don't be shy about asking for assistance. If any issues arise during class, your students would appreciate it if you take the time to fix them so that they may get back to their studies as quickly as possible. Despite potential technological difficulties, you may successfully teach yoga classes online with the correct mindset and approach.
Marketing Your Courses:
To attract students to your online yoga sessions, you must have a solid advertising strategy. It's important to publicize your courses in a manner that will attract the folks you're hoping to teach. Keep in mind that word of mouth is one of the most efficient forms of promotion, so don't forget to tell your loved ones about your courses. Prospective students may be contacted through social media, email campaigns, pay-per-click adverts, and video material.
Make sure your marketing materials manage to strike a balance between professionalism and interest. Show prospective students what they can anticipate from your course and why it's worth their time and money through photographs or videos. To further entice individuals to join your online yoga courses, you may also consider giving discounts or specials.
Last but not least, be sure to provide stellar customer service throughout each lesson. Help students get the most out of their lessons by responding promptly to their queries and problems and by providing them with useful advice and recommendations. The result will be a steady stream of returning pupils.
The Bottom Line
There are several benefits to teaching yoga through the internet. It's possible to have a productive and satisfying adventure if you put in the time and effort required.
I've covered everything you need to know to get started teaching yoga, what gear you'll need, how to set up a payment system, how to manage your time well, how to troubleshoot technological problems, and how to market your courses. All of these factors are crucial to consider when you design an online yoga course.
Ultimately, success as an online yoga instructor calls for commitment and effort. While difficult at times, the payoff for sticking with it and maintaining a positive frame of mind is substantial. In addition to generating a livelihood, you may help spread your enthusiasm to individuals all over the globe. Now is the time to begin your journey into the world of online yoga instruction.