4 offbeat ways to practice yoga
Published: 25-11-2015 - Last Edited: 14-11-2022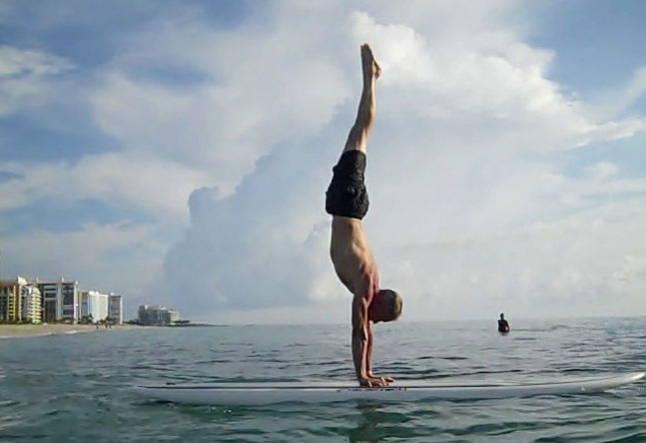 It's hard to pinpoint exactly when people started doing yoga. Many people estimate the practice began at least 5,000 years ago in India. Since that time, people have embraced this form of exercise. From Hatha, Vinyasa, Bikram and more, some innovative teachers have gone outside the yoga mat to offer their students fun and offbeat renditions of yoga.
AntiGravity Aerial Yoga
If you live in Honolulu or are planning a vacation to the Aloha State, check out AntiGravity Aerial Yoga at The Hangout. The classes involve using an AntiGravity Hammock that serves as both a gentle trapeze, and a support while you learn basic inversions and more advanced poses. The technique was originally designed for gymnasts and other athletes, but was modified for lay people who want to try yoga with an anti-gravity twist. Fans of this form say it can help relieve the pain of compressed joints.
Doga
Austin is one of the most dog-friendly cities in the U.S. — from pet-accommodating apartments, to pet-friendly stores and now, even a dog-centered yoga studio. What do you get when you combine yoga with your four-legged friend? In Austin, the answer is Doga. The Austin Doga classes are taught by Nicole Vykoukal, a registered yoga teacher, who shows her two-legged students how to do gentle yoga poses to manage stress and encourage relaxation. Vykoukal encourages participants to bring their four-legged friends so they can be part of the relaxing fun with gentle dog massage, and lots of love and pats. As many Doga enthusiasts report, practicing with their dogs not only increases the bond they have with their beloved pet, it also makes them both feel happier and more relaxed.
SUP Yoga
People who live in or near Seattle, Washington, can head over to Surf Ballard for SUP Yoga. Instead of practicing yoga on a soft mat in a studio, SUP yoga takes place on a stand up paddleboard on the shores of Shilshole Bay near Ballard. The classes, which are great for any yoga level, start out with a short shore-side lesson on the basics of stand up paddleboarding along with a guided warm-up session. SUP yoga classes also include strengthening and lengthening poses, breathing exercises and meditation that are meant to improve balance (which you'll learn quickly if you don't want to get wet).
Yoga & Treats
Yoga enthusiasts who love to reward themselves after class by treating their sweet tooth may want to check out Chagrin Yoga in Chagrin Falls, Ohio. The studio hosts classes like Yoga and Chocolate, which combines a two-hour deep-stretch yin yoga class with a taste of decadent, gourmet chocolate from Vosges Haut-Chocolate. Yoga and Wine combines flowing vinyasa and amusing stories, and ends the sweat session with a savory red.
Read next >> we are all yoga teachers