October 26 New Moon Asana
Published: 18-10-2011 - Last Edited: 10-11-2022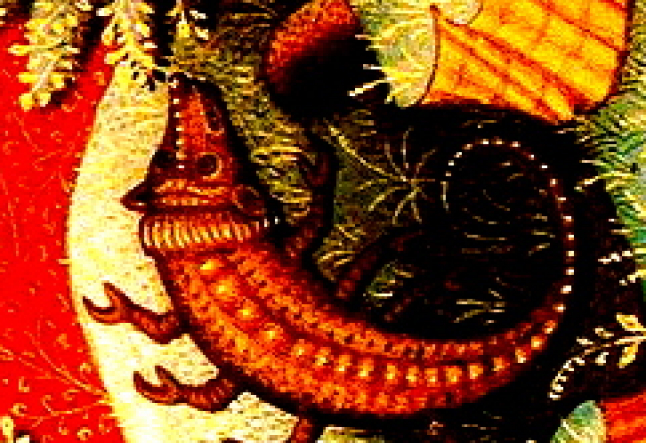 October 26 New Moon Asana | Astrology Yoga New Moon October 26 26
HAPPY DIWALI
The New Moon of October 26th coincides with Diwali, the "festival of lights." This traditional festival is celebrated in India and beyond, and it signifies "the power of light to illumine darkness and uplight our hearts."
This is a great time for practices that en-lighten the heart. Also decorate your home and yoga studio in the traditional way: add abundant candlelight. Celebrate the light.
NEW MOON
As we celebrate the festival of lights, Diwali, the Moon is at its darkest phase (known as New Moon). Not only that, this New Moon of October 26th is at 3° Scorpio, the sign ruled by mighty Pluto.
Pluto is known as the "Lord of the Underworld." The symbol for Pluto is the phoenix, a mythological bird. The phoenix inspires us to:
– acknowledge the depths of darkness and destruction

– emerge from darkness; leave behind those ashes of destruction

– embrace enlightenment; be reborn; take flight
DESTRUCTION AND CREATION
The Scorpio New Moon (known as the "Raging Moon") evokes that eternal interplay between destruction and creation:
– Destruction – Pluto's destructive side is not as bad as it sounds. Actually, Pluto is helping us let go of whatever keeps us disempowered. Pluto's destructiveness is liberating.
– Creation – It also helps to remember that there can be no darkness without the existence of light. And we carry that light within us. Your creative power illuminates the darkness.
Starting to feel more empowered? You ought to feel powerful, because you are.
ASANA
What do you think, when you imagine the most creative area in your entire body (apart from the immense creativity of the mind, that is.)
If you answered "the pelvis" (womb, etc.), you are aligned with the power of this New Moon in Scorpio. Traditional zodiac-body correlation for Scorpio = pelvis. Let's explore enlivening the pelvic region in asana practice.
Cobbler Pose
Sit on the floor (and lean back against a wall for support: in Vedic astrology, the October 26 New Moon is in Libra = lower back, so support your lower back now.)
Now press the soles of your feet together in cobbler pose. Drop knees out to the sides. Optional: slide bolsters in place, one bolster beneath each knee.
Gently place your palms on your lower abdomen. Breathe in. Fill the pelvic bowl with breath. Breathe out, soften, and "empty" the bowl.
Again, breathe in. Circulate breath throughout the pelvis, and include breathing throughout the pelvic floor. Close your eyes, exhale, and breathe easily.
When you're ready, open your eyes and watch this brief (but totally amazing) revelation about coming to life in cobbler pose.
GLORIOUS LIFE
Yoga is coming to life. Again and again, come to life. Celebrate Diwali and the October 26th New Moon by inviting Pluto, Lord of the Underworld""along with your extraordinary creativity too (yes, you!)""to come to life, to dance, to play!
Namasté.
Join Diane Booth Gilliam and Wataya Kyd Roberson at Yoga Kula in San Francisco, and in Berkeley, for two extraordinary Yogastrology: Yoga Meets Astrology workshops, October 29 & November 5. Click here to read more, and register online. See you there!
Read next >> sierra ville hotsprings