holiday nut roast with vegan gravy
Published: 25-12-2013 - Last Edited: 12-08-2021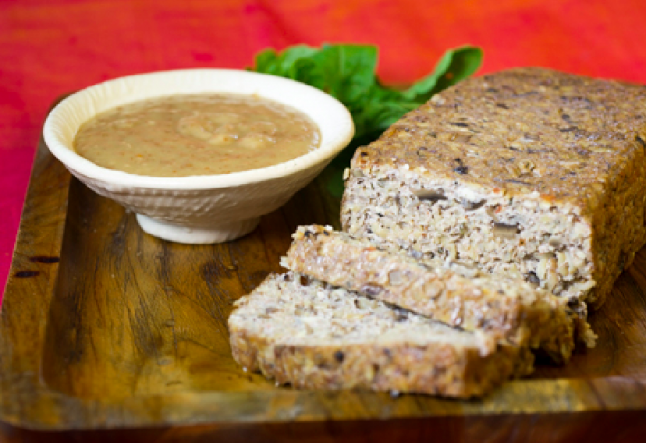 holiday nut roast vegan gravy entree
Heat an oven to 180 degrees celsius.

Place a 1/3 cup of almonds, 1/3 cup cashews, 1/3 cup walnuts in a food processor and chop until they look like rough bread crumbs, then place in a large mixing bowl. Add 500g tofu and 2 cups of cooked rice. Mash with your hands until they resemble a "ricotta" consistency.

Finely chop 1 onion. Finely chop 2 garlic cloves. Finely chop 10 mushrooms. Finely chop 1 tbsp rosemary. Finely chop 1 tbsp fresh sage.

Heat a frying pan on a high heat. Add 1/2 cup water. Add the onions and garlic. Sauté until the water evaporates. Add the mushrooms. Add the rosemary. Add the sage. Saute until the mushrooms are soft. Add all the sautéed vegetables to the nut, tofu and rice mixture. Add 3 tbsp tamari. Mix well. Season with salt and pepper to taste.


Line a rectangular loaf tin with baking paper. (Ensure all sides are lined and that there is plenty of paper overhanging the tin to fold over and enclose the top). Spoon in the nut roast mixture. Fold over the excess baking paper to completely cover the top of the mixture.

Bake for 45 minutes at 180 degree celsius, remove from the oven let stand for 5 minutes. Place the roast on a chopping board or platter. Slice and serve. (its great served hot or cold)

For the gravy
Place a saucepan on a high heat. Add 1/4 cup of olive oil. Add 1/4 cup of whole wheat flour. Constantly stir until a light brown nutty colour. Add 1/3 cup water and stir constantly until it forms a paste. Add the 2nd 1/3 cup of water and stir constantly until boiling. Add the 3rd 1/3 cup of water and stir constantly until boiling. Add 2 tbsp soy sauce. Stir well.


ifeelgood.com.au