nikki estrada
Published: 20-08-2011 - Last Edited: 20-10-2022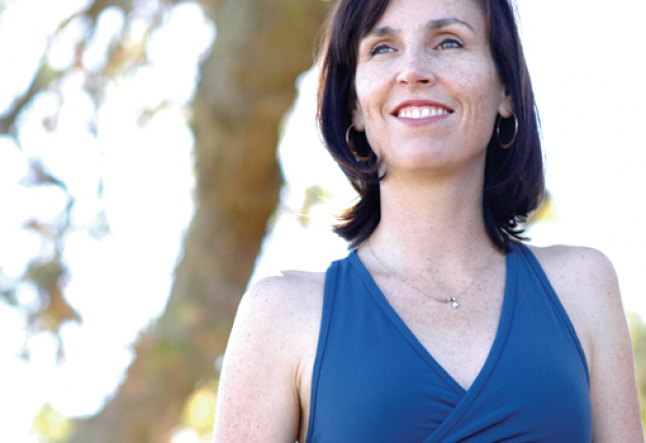 yoga calling
Nikki Estrada is sitting across from me at one of Café Gratitude's bright orange Formica tables. Our tattooed, dreadlocked server announces, "You Are Accepting!" as he presents her order""a warm grain bowl consisting of red rice, kale and avocado. And "You Are Joyful!" he proclaims as he hands over my yerba maté tea served latte-style with hazelnut milk. Here at Café Gratitude, the menu items are named after positive affirmations, a perfect manifestation of the mindset of its Marin locale.
Marin and, more specifically, San Anselmo, is where Estrada grew up in the early eighties with her mother and grandfather, immersed in a world of health food, hot tubs and aerobics. Surprisingly, this is not where she started doing yoga. In fact, it was only during her college years, when she moved to the same street as the Santa Barbara Yoga Studio, that she finally took a yoga class. And while she fell in love with yoga immediately, it would be a few more years before she embraced her calling as a teacher.
An only child with her share of challenges""her father, struggling with alcohol addiction, left the family when she was seven""Estrada learned at a young age to take care of herself. She did well in high school, went off to college. But it was there she found herself struggling with an anxiety that she couldn't name or place. Drawn to yoga initially by the physical challenge, she soon found herself affected in a much deeper way. Today she credits yoga with setting her on a path to healing and clarity about some of her more painful childhood experiences. Now the mother of a two-year-old (with a present, supportive husband), she says, "It's about taking responsibility and learning how to stop creating negative karma. It's about figuring out how I can plant new good seeds, for myself, and also for my daughter."
Clearly yoga was in Estrada's life to stay. The first thing she did after college was travel to Sri K. Pattabhi Jois' Ashtanga school in Mysore (where she ended up partly because the waiting list for B.K.S. Iyengar was too long). Estrada recalls her months at the school, which at the time basically consisted of two rooms in Sri Jois' house, with fondness. "About fifteen of us would practice on the ground floor with him, and then we'd go upstairs to do our finishing poses on our own, while the next fifteen came in downstairs. It was pretty crazy."
After India, she returned to Marin, where she reconnected with her first and most influential teacher, Sarah Powers. Powers's Yoga Works flow style, which added variety and longer holds to the Ashtanga practice, resonated with Estrada as a student. Still she was not thinking about teaching. Instead she started working as a buyer for Whole Foods, and after a few months, was seriously considering signing up for an MBA and committing to corporate life. At this pivotal point in her life, the manager of Yoga Studio in Mill Valley (now Yoga Works), where she was a regular student, suggested that she enroll in the upcoming Erich Schiffmann teacher training. Not sure what to do, Estrada decided to talk to a career counselor, who asked her a series of questions, the answer to all of which was "yoga." Estrada took the teacher training and started teaching. Eventually she quit her day job.
Today Estrada is a successful, confident""yet decidedly humble""yoga teacher, who for more than ten years has been teaching private and group classes, workshops, retreats and teacher trainings both locally and internationally. And she continues to grow both as a student and teacher. She admits that her energy was focused more on the asana side of the practice initially, as it is for many yoga students. "Asana practice just for the sake of performing asana is a dead end," she says now. "We're all going to face limitations in our bodies. Anyone who has been practicing long enough will get to a place in their body where they are as open and as strong as they're going to get physically, and at that point, when you think, "˜OK, what's next?' that's where pranayama and meditation, Tantra and Ayurveda come in." Estrada mentions Rod Stryker as her most influential teacher, whose instruction on these topics she is starting to weave into her teaching.
Estrada's classes offer integrity, consistency and intelligence. Her students appreciate the way she shares her deep embodied knowledge of the full spectrum of yoga subjects with practicality and groundedness. Estrada says her main goal is to give students the experience of yoga, "That witnessing of something bigger and deeper that is beautiful and peaceful and pervasive." She tries to guide them to a place, "where they can connect with themselves, refuel, do something positive for themselves that translates into their lives and into their communities." Keira Kotler, one of her adoring students, thinks Estrada succeeds. "I always emerge from her class feeling calmer, stronger and with a greater awareness of myself on that day, which ultimately is the greatest gift of the practice," Kotler says. "It brings us more in touch with who we are."
Estrada is now gearing up for teaching more workshops and teacher trainings next year, and is also planning to produce a DVD. She is whole-heartedly committed to the path she is on as a yoga teacher. Sarah Powers agrees that Nikki has found her true calling. "Nikki was blessed with a body that loves the practice, a mind that understands how to articulate the subtleties, and a heart that's open and caring. I hope many people are able to learn from her for years to come."
Check out Nikki Estrada's teacher training programs
Read next >> The Yoga of the Yogi