the magic of travel
Published: 10-11-2020 - Last Edited: 14-11-2022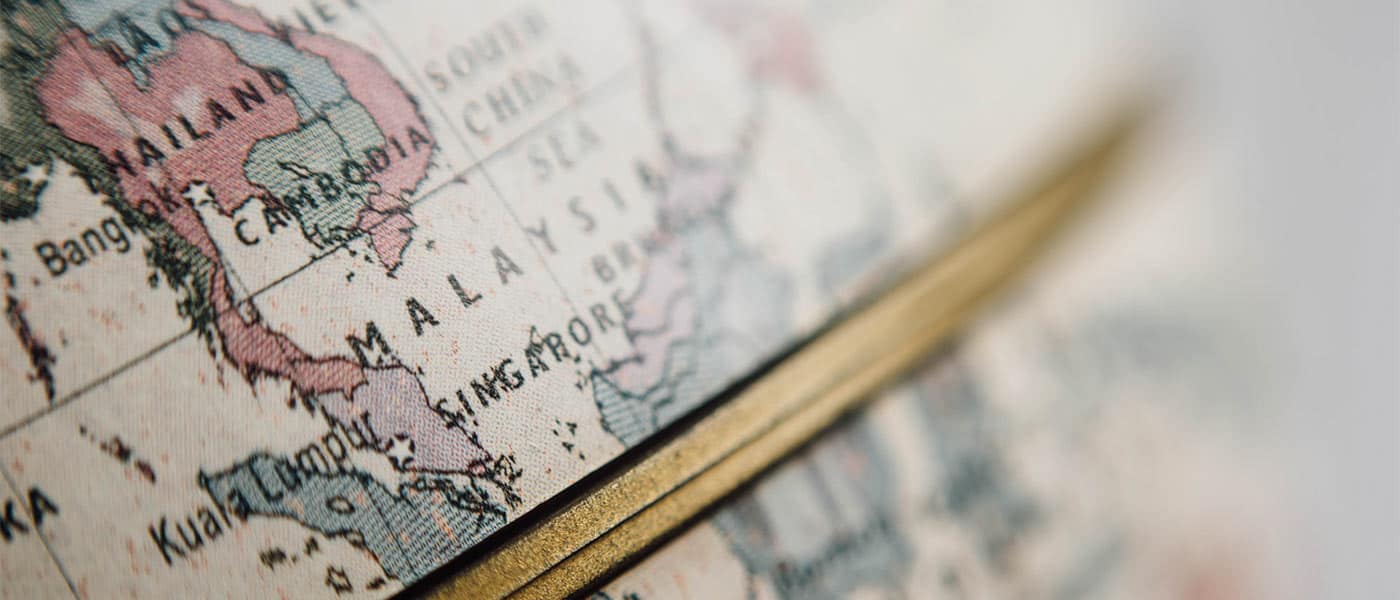 discovering the world inside yourself
For so many of us it is the stuff of daydreams or wild imaginings. We drop everything and fly off at a moment's notice to some tropical paradise devoid of ringing phones, screaming children and piling bills, where the most important decision of the day is whether to have the next margarita frozen or on the rocks.

Then reality comes back into focus and the dream fades into the depths of fantasy from whence it came.

For some people, travel represents freedom. For others, it represents escape or a connection to adventure and mystery outside the doldrums of the daily grind.  But beyond the escapist yearnings of the stereotypically overworked, underappreciated American worker bee is the opportunity to reconnect with ourselves through travel.

By stepping out of the mold of the conventional, prepackaged vacation and embracing a more adventurous and stimulating experience, we make ourselves available to rediscover the vibrant beauty that dwells within each one of us. We gain new insights that can only be achieved through seeing the world from a new perspective.

By opening ourselves up to other cultures, other ways of life and new and challenging experiences, we begin to develop a sense of the true scope of our potential, allowing us to approach that daily grind with a newly revitalized sense of purpose and fulfillment. 
So where do we go when those precious, long-awaited two weeks per year come along? How do we make the most of the opportunity? As yogis, there is a good chance that our tendencies already lean toward "the road less traveled by." For those who fall into that category, there are multitudes of opportunities off the beaten path just waiting to be taken advantage of that can offer a view of the world through the lens of adventure and discovery. 
One of the most restorative and rejuvenating gifts we can give ourselves is to get out of the confines of our cars and cubicles and reconnect with the beauty and life energy of nature.

Whether for weekend getaways or long-term vacations, the market for eco-adventures and nature-centered travel has exploded in the last decade as more and more people come to realize how precious and fragile the natural wonders of our planet are.

A great demand has arisen for travel experiences that allow us to commune with nature without having a negative impact on it and the travel industry is responding with a dizzying array of options. Eco Dive Center is one such company that is offering ecologically sound diving excursions that allow people to experience the natural beauty and wonder of the ocean while preserving it for future generations to enjoy. In addition to exposing people to the majesty of the deep, Eco Dive Center also hosts events in California centering on environmental awareness and education. 
For those looking to incorporate yoga into their nature based travels, companies like Yogadventures, founded by Shiva Rea offer retreats and travel in California and all over the world that combine outdoor activities like surfing, skiing, rock climbing and diving with yoga and meditation.

Adventure Yoga Retreats actually coordinates all-inclusive retreats for yoga teachers and their students that combine sporting activities with yoga, while Yoga Adventures brings together many of the most renowned yoga teachers in America in some of the most inspiring settings on Earth to provide travelers with profound experiences of growth and personal discovery.  
An increasingly popular destination for traveling yogis is the retreat center. Yoga and spiritually based retreat centers can be found all over the United States and the world offering varying degrees of luxury, rusticity and seclusion. The beauty of visiting a retreat center for spiritual, yoga or nature based trips is that their facilities are entirely geared toward providing an environment that is conducive to stillness, serenity and spiritual growth.

In many cases, food is organically grown and vegetarian. There are facilities for yoga and meditation and accommodations are geared toward providing the option for guests to commune or indulge in solitude. 
One of the oldest yoga based retreat centers in the United States is The Feathered Pipe Foundation's Feathered Pipe Ranch.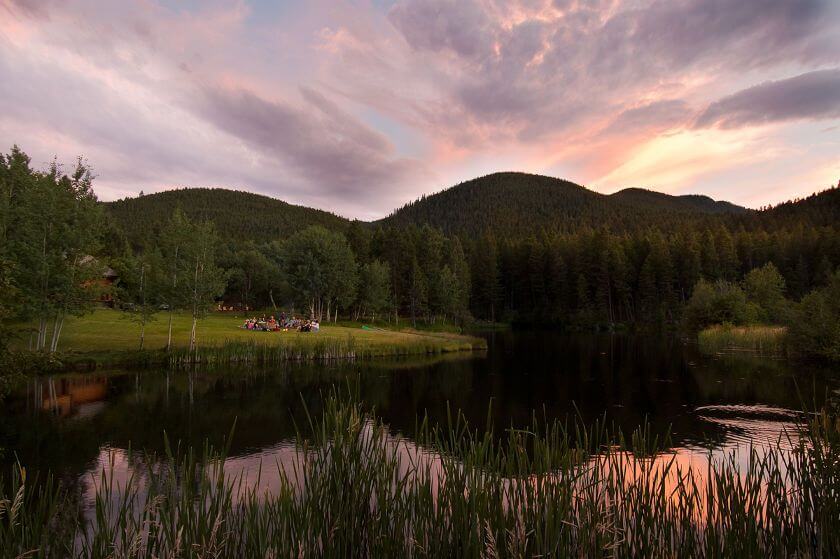 Located in the lush forest of the Montana Rockies, this tranquil, rustic setting has become an institution of yoga's growth in America. As the birthplace of Yoga Journal and what became the Iyengar Yoga Institute of San Francisco, Feathered Pipe has provided a stimulating and nurturing environment for people from all over the world to deepen their understanding and connection to the transformational power of yoga.

The ranch regularly plays host to many of America's most accomplished and respected teachers, offering workshops and classes in all types and styles of yoga and meditation. Bodywork in many varieties is available from Feathered Pipe's staff who have training in Eastern and Western massage, chiropractic, cranio sacral therapy, shiatsu and much more.  The foundation also organizes travel adventures abroad hosted by many of the same respected instructors who have made Feathered Pipe Ranch a center of growth and transformation for thirty years.
Samasati Retreat Center in Costa Rica offers an experience that is more tropical in nature. Situated in the center of a pristine Central American rain forest, Samasati is a sustainably operated, ecologically sound oasis that offers visitors an unparalleled opportunity to absorb the healing and rejuvenating power of nature. The opportunity to observe Costa Rica's abundant wildlife first hand is one of the high points of a visit to Samasati.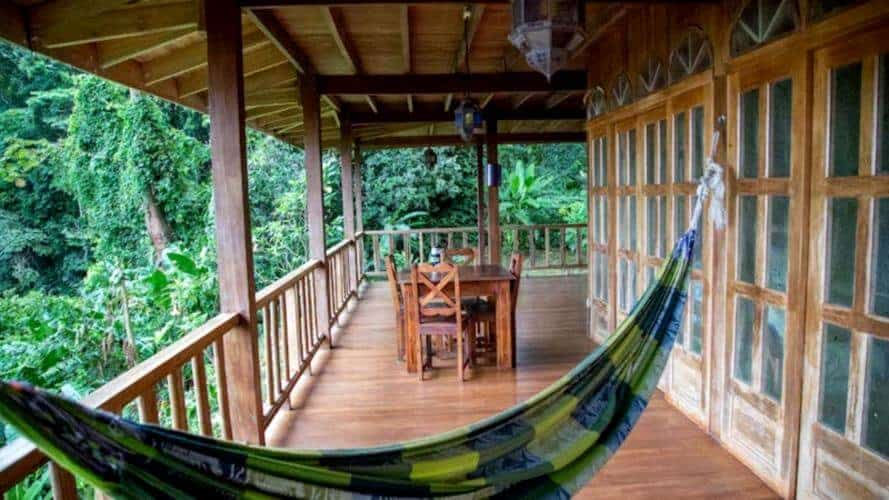 Brilliantly colored butterflies, mischievous monkeys, and flocks of toucans all live in harmony with the visitors to the retreat. Costa Rica is one of the world's leaders in all natural health and beauty care products. The spa facilities at Samasati utilize this by offering visitors luxurious natural treatments that cleanse and polish the body while the stunning natural setting, yoga and meditation heal and restore the spirit.

All of the vegetarian cuisine offered at the resort's open-air restaurant comes from locally grown and whenever possible, organic foods incorporating culinary influences from all over the world. Regular yoga and teacher training programs are offered year round at Samasati.
Travelers looking for a tropical paradise who want to stay stateside will find the Kahua O'mali'o Maui Retreat to be a place of comfort, pleasure and relaxation. For decades, people have sung the praises of the Hawaiian Islands, noting their almost mystical quality of natural serenity. Kahua O'mali'o is a completely sustainable retreat operating entirely from solar power and renewable resources.
Almost all of the retreat's structures are built from renewable, organically grown bamboo produced on Kahua's land, which is also a functioning organic farm. Water comes from a well and a rain catchment system. A visit to Kahua is an opportunity to truly live in and with nature. The grounds boast a one hundred foot waterfall with three natural swimming pools at its foot. With less structure than other retreat centers, Kahua allows its visitors to craft their own experience.

There are many activities in the surrounding areas to be taken advantage of such as taking a thirty-seven kilometer bike ride down the slopes of a Hawaiian volcano with Maui Sunriders Bike Company. Or, for those just seeking rest and relaxation, Maui's pristine black or white sand beaches are always waiting to cradle sunbathers and snorkelers.
For a much more international journey, the Osho International Meditation Resort (OIMR) located in Pune, India is a fascinating and luxurious foray into the world of the spiritual artist and philosopher, Osho.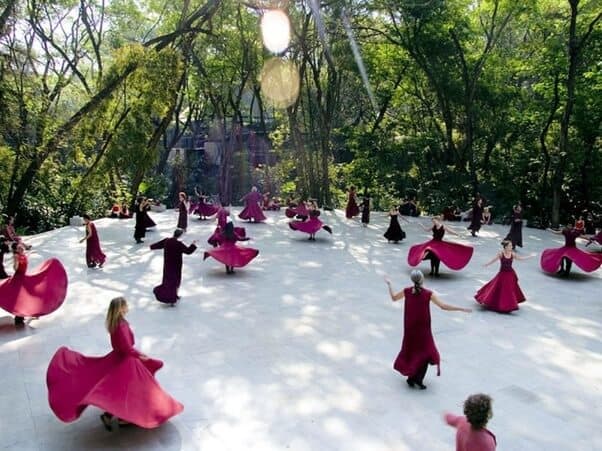 Based on the idea that a complete human must be equally at home in the material world and the spiritual world, this resort has created a visually stunning environment that caters to visitors from over one hundred countries around the world annually.

Visits can last anywhere from an afternoon to three months depending on the programs offered or the whim of the visitor. The OIMR is in some ways like a small city unto itself. Within its grounds is a twelve-acre Zen garden reclaimed from what was once polluted wasteland.

The architecture is sleek and modern, creating an impression rather like a utopian city of some future civilization that has learned how to live in harmony with nature. Interpreters fluent in dozens of languages are available to assist visitors, facilitating the truly international and multicultural atmosphere. Instruction in a variety of meditation techniques is available as well as bodywork, spa treatments, yoga and recreational activities.
Also Read>> Centering Meditation
What is unique about OIMR is the fact that though the resort's focus is on meditation and positive transformation, there is a sense of levity and lightness that comes from Osho's belief in the need for humans to enjoy life and indulge in the pleasures of the tangible world. As a result of this, visitors can enjoy parties and social gatherings of some sort every day at OIMR as well as endless opportunities to meet people from all walks of life. 
Another growing market in the travel industry is in the area of group travel for women. Two organizations that offer getaways for women only are Wild Women Workshops and Get Dressed and Go Creative Safaris for Women. Both offer women the opportunity to find comfort in the company of one another and learn new things in a supportive, nurturing environment.

Wild Women Workshops combine the benefits of yoga, the cathartic process of creative writing and the beauty of nature to offer women a place to heal, grow and thrive through trips to Yosemite, Hawaii, Alaska and more. Get Dressed and Go began with the intention of giving women a supportive environment in which to learn the sport and lifestyle of surfing.

Guests stay at the beautiful La Playa Hotel, which has been painstakingly restored to its original Victorian splendor. Responding to the requests of their guests, Artista has incorporated painting instruction into their programs and couple the opportunity for women to get back in touch with their artistic talents with fun and frolicking in the sun and surf of Carmel-by-the-Sea.
The prolific presence of news reports, books, workshops and advice in our culture about how to deal with stress and the physical problems it causes is a good indicator that there is a large portion of people in America who are concerned about their health and are looking for alternatives to popping pills and relying on more and more pharmaceuticals.
For travelers looking to combine a medical aspect of healing to their time away, The Raj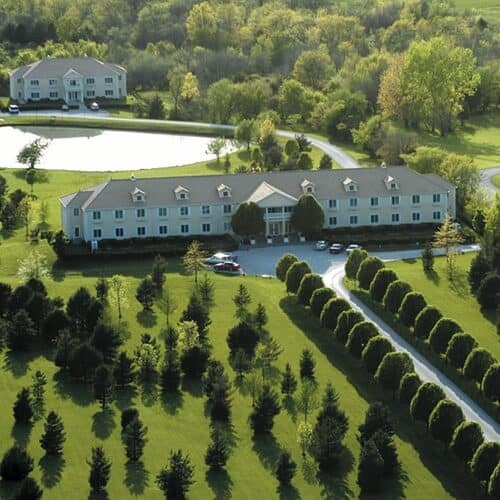 is one place that can offer the benefits of the ancient and time-honored tradition of Ayurveda. Located in the picturesque rolling hills of Fairfield, Iowa, The Raj provides its guests with all of the luxurious comforts of a world class resort, while at the same time offering them natural Ayurvedic spa and medical treatments to detoxify, heal and fortify all of the systems of the body.

At the same time that they are being pampered and healed, guests of the Raj learn about how to make positive and practical changes in their lifestyle so that they can continue the benefits they gained from their experience once they return home. 
To depart
The world is so full of magic and wonder just waiting to be discovered by the adventurer that lives within each one of us. When we let go of our trepidation and open our hearts to the rich diversity that humanity and nature have to offer, the potential for discovery, growth and reward is limitless.

When we take some time to step away from the routine of our lives and fill our senses with new and exciting experiences, we suddenly find that we can see our lives with a new and healthy detachment. It gives us the opportunity to look at our lives with objectivity and chart a course for the future that incorporates some of the magic and beauty we picked up along the way.