7 DAYS TO BALANCE YOUR LIFE: DAY 4
Published: 12-03-2018 - Last Edited: 29-01-2022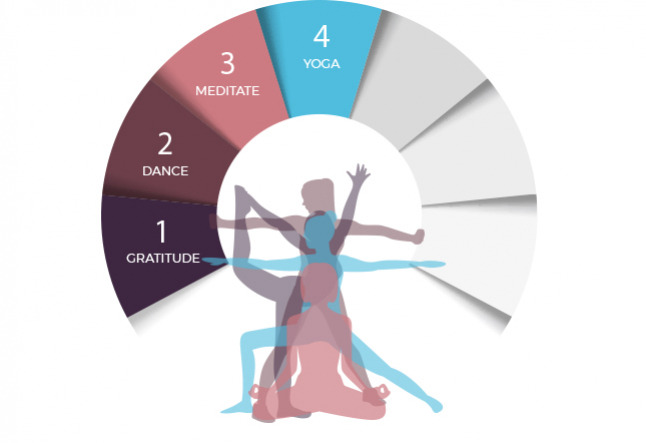 PRACTICE YOGA
Let yoga free the prana (force of life) in your body.
Committing to an hour-long yoga session is challenging. Dedicating just 7 minutes of your day is doable and will create a huge impact in raising your vibration.
Mark Whitwell, a veteran of authentic yoga practice, invented the concept of 7 minutes of yoga a day. We discovered it a few years ago at the Bali Spirit Festival, an international gathering for fellow yogis from all over the world.
The concept is simple.
7 minutes of yoga a day is all you need to shift your mindset and raise your vibration.
THE PRACTICE:
Start your day with Sun Salutation A and B, a 12 pose yoga sequence that rises your kundalini energy. To make your yoga journey as easy as possible we have found the crème de la crème of sun salutation yoga videos.
Watch this Sun Salutation Yoga Video



In this video, yoga teacher Adriene Mishler's spirit is light and her enthusiastic teaching style will bring enjoyment to your session and get you ready to start your day with renewed energy.
Or, if you would like to follow one of Mark's yoga sessions, we've got you covered.
Mark's authentic passion for yoga shines through on this video. Trust us, by the end you will be so infused and eager to start your day.
Grab your mat and start today.
Starting with 7 minutes a day will encourage you to be more connected to your breath and let the prana (force of life) circulate in your body, creating an uplifting sensation.

Share with us in the comment section how you felt afterwards!
NOTE: Here are days 1, 2 and 3 of the 7 days to higher vibration. Implement all days into your routine. The results are so incredible, you'll be hooked.


Add the your yoga practice to Day 1, Day 2, Day 3 and you'll be one step closer to your highest vibration.