hemp seed crusted tofu
Published: 13-08-2012 - Last Edited: 10-11-2022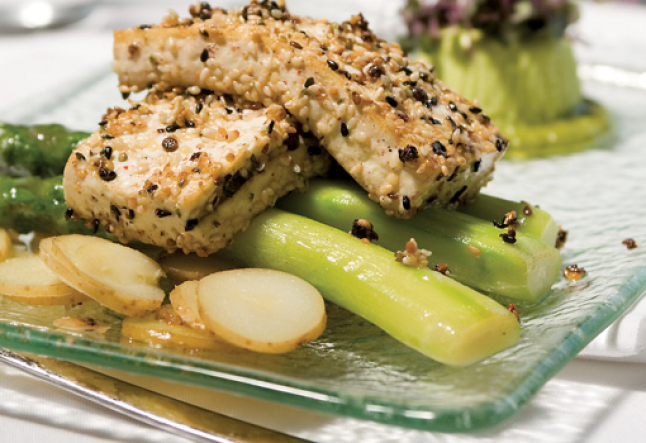 Hemp Seed Tofu Vegetarian Recipe Entree
Neal Fraser, one of California's most innovative chefs, winner of the Food Network's Iron Chef America Competition specializes in marrying first-rate seasonal ingredients with a talent for blending different tastes and consistencies to create unexpected delightful dishes. We are in for a treat as Fraser guides us on how to make Hemp Seed Crusted Tofu.
For the Flans (Savory Custard)
Heat the peas in the cream to roughly 150 degrees.
Allow the mix to cool to 120 degrees.
Blend with egg yolks and salt and strain through a fine mesh strainer.
Spray four 2 oz muffin tins with pan spray and fill with 1 ¾ oz of filling.
Cover and bake for approx 20 minutes in a 325-degree oven."¯
The flans should be firm when cooked.
Allow the flans to set up after you pull them from the oven before trying to remove them.
Once the flans are firm, turn the muffin pan over onto a plate to release the flans
For the Fingerling Potatoes
Cut the potatoes using a mandolin (vegetable slicer) into 1/8-inch thick slices.
Sauté with olive oil over medium to low flame until tender and golden brown.
Cook in a fare amount of oil. If there is too much oil, you can drain them before serving.
For the Parsley Nage (Sauce Thickened By Butter)
Put the garlic and shallot in a saucepan and cover in water.
Bring to a boil. When it boils, strain off the water and add cold water."¯Repeat 3 times."¯
On the 4th time add the white wine and reduce by two-thirds.
Add 2 cups of water and reduce by ½.
Add the parsley and cook until the parsley is soft."¯
Blend with butter and salt until smooth.
Strain through a small hole strainer. Season to taste.
For the Tofu
Season the cut tofu with salt.
Mix the hemp seeds and sesame seeds together and coat both sides of the tofu.
Sauté over medium heat with canola on one side till golden brown.
Turn over and put into a 350-degree oven for 5 minutes.
For the Asparagus
Season a pot of water with salt.
Bring to a boil and put the asparagus in the water.
Blanch the asparagus for 1 minute and check for doneness.
Remove the asparagus and shock it in ice water when it is cooked but still crunchy.
Reheat with 2 oz of butter and a touch of salt.
Assemble as shown.
Garnish with mixed micro greens.
Read next >> spinach, goat cheese & chili quesadilla