4 healthy & easy side dishes for the holidays
Published: 16-01-2013 - Last Edited: 12-08-2021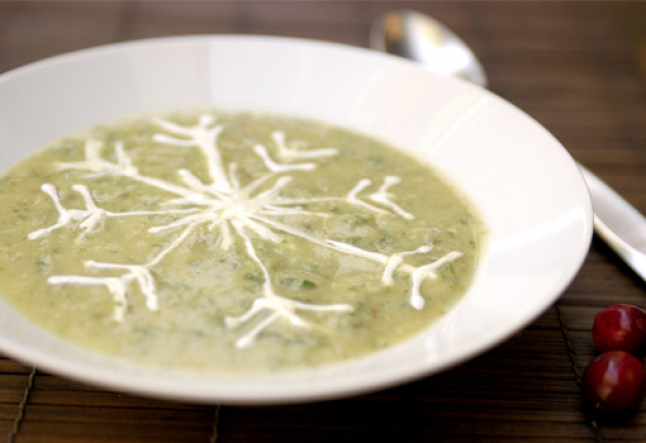 Enjoyable meal for the whole family
The vivacious and creative Chef Monika Reti of Hipcooks cooking school in Los Angeles prepares four delectable, easy to prepare side dishes that will make divine additions to any holiday feast.

To make the Watercress Soup
Sweat the onion, celery and potato in 2 tablespoons of butter over low heat, covered, for about 10 – 15 minutes until the potato is soft. Cover with water and bring just to a boil, then remove from heat. Cool slightly and ladle the mixture into a blender so that it comes halfway up the blender. Whiz. Add a couple of handfuls of watercress and blend until smooth and bright green. Repeat as necessary and place back in a soup pot. Season with salt, pepper and a liberal squeeze of lemon. To finish, you can swirl some cream or dollop a bit of crème fraiche.

To Make the Orange and Ginger Cranberry Sauce

Place all ingredients except sugar in a saucepan and heat over high, stirring, for about 2 minutes until just boiling. Add the sugar, stir and cook for a few minutes more. The cranberries will pop delightfully and the sauce will begin to thicken. Take off of the heat – the sauce will continue to thicken as it cools. Superb!

To make the Roasted Root Vegetables

And toss in a bowl with plenty of olive oil, salt and chopped rosemary. Roast in a large sheet pan (or two smaller sheet pans) – they'll take about an hour in a 375F degree oven. When they are ready (you will be able to push a fork through a veggie easily) and beginning to brown around the edges, place in your prettiest platter. A couple of turns around the platter with olive oil and extra sprinkling of flakey sea salt and rosemary sprigs make these veggies look as delicious as they taste.

To make the Pumpkin Soufflé with Cognac Cream
This recipe yields 10 small ramekins of soufflé.  Feel free to make in a large soufflé dish, although note that it will take much longer to cook (say, up to half an hour or forty minutes.)

Butter and sugar the soufflé dishes. Melt the butter over a low heat and whisk in the flour stirring until thick. Cook over a medium heat for a couple of minutes. Then add the milk and half of the sugar, whisking all the while.  Remove from heat, and add the egg yolks one by one, stirring in between.
Then add the pumpkin and sprinkle in the spices until you feel happy and holiday-like. Fold the whites into the pumpkin mixture by adding a little of the whites to "loosen", and then all the whites. (If you do it the other way round, the world is not lost!)
Chill the soufflés until you are ready to bake, in a 375F oven, for about 10 to 15 minutes until puffed, slightly browned and just cracking on the tops.  
Then bake just before serving.)