reasons to eat almonds
Published: 08-07-2013 - Last Edited: 03-11-2022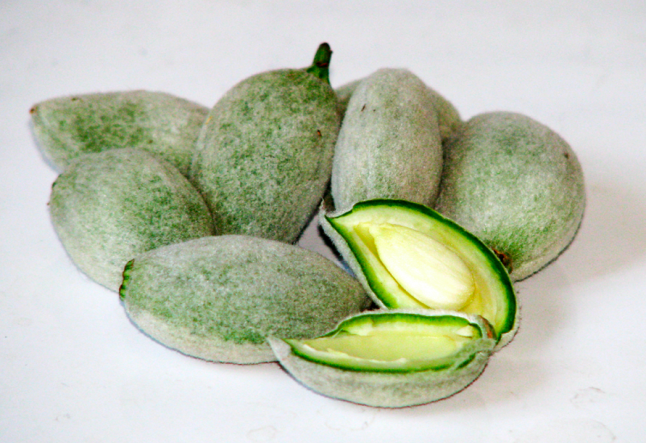 health benefits eat almonds good fat proteins
Almonds are delicious, crunchy morsels, and this alone is reason enough to grab a handful. But almonds are so much more than a tasty snack – they are packed with healthy compounds and a great addition to any diet. Here's why:
Almonds are a healthier choice than the ubiquitous peanut, which has held tight to its spot as the favorite nut (peanut butter, peanut snacks, peanut brittle, the list goes on). However, peanuts are acid forming, whereas almonds are alkaline. Some cancer specialists claim that everyone who is diagnosed with cancer has an acid pH. Almonds are also less toxic and less allergenic than peanuts, which are actually legumes, rather than nuts, and therefore can be more challenging to digest.
There are so many wonderful health benefits to eating almonds. They are good sources of calcium, magnesium and phosphorus, which help in bone growth. They can help prevent cholesterol build up in the veins, which reduces risk of heart disease. They are full of vitamin E, which keeps the skin looking young, healthy and soft. Compared with other tree nuts, almonds have more protein ounce for ounce, as well as higher fiber (12% of the daily recommended amount) and calcium.
Practically speaking, almonds are a very handy snack. They are perfectly portable and great for grazing through the day. They also give that sought-after satisfied, full feeling. This is because almonds contain oleic acid, a healthy fat, which helps trigger the small intestine to produce oleoylethanolamide, a component that has been shown to curb hunger pangs.
Almonds are very versatile when it comes to including them in your diet. They can be eaten as sweets or savories, at breakfast, lunch and dinner. Almond butter (ideally, raw organic) is a delicious add-in to a morning smoothie or stirred into an oat, amaranth or millet porridge. Almonds can be flaked or chopped and sprinkled over muesli. One delectable savory dish that incorporates almonds is the Moroccan pastilla, which is a spiced vegetable and ground almond parcel, wrapped in filo pastry.
Almonds can be used in a variety of dessert recipes, still offering all the health benefits of this nut, wrapped in a decadent package. For baked goods, almond flour or ground almond can be used as a flour replacement for gluten free and paleo recipes. Many health food enthusiasts make their own variations of bliss balls, which are dried fruits and nuts, seeds, and oats, all blended together and rolled into balls. Bliss balls are perfect natural energy snacks and satisfy a sweet tooth. They are delightful with a cup of herbal tea after yoga class. Here is one recipe to try using almonds:
In a blender or food processor, mix pitted dried dates, ground almonds, a couple of teaspoons of raw cacao powder, and a handful of whole nuts of your choice (e.g. walnuts, brazil nuts or cashew nuts). Mix thoroughly, adjusting the consistency by either adding more dry or moist ingredients, or even a drop or two of water if needed). Roll the mixture into truffle sized balls and pop them in the fridge for easy access snacks and treats.
All in all, almonds help support the body's internal systems, make the skin glow, and are a healthy, handy and filling snack. Almonds can be incorporated into every aspect of a natural diet. So if you're in a peanut rut, switch up your habit for almonds and enjoy a delicious new spin on healthy eating.
Read next >> 3 simple tasty recipes to help protect your eyesight