sustainable scale
Published: 15-11-2012 - Last Edited: 08-11-2022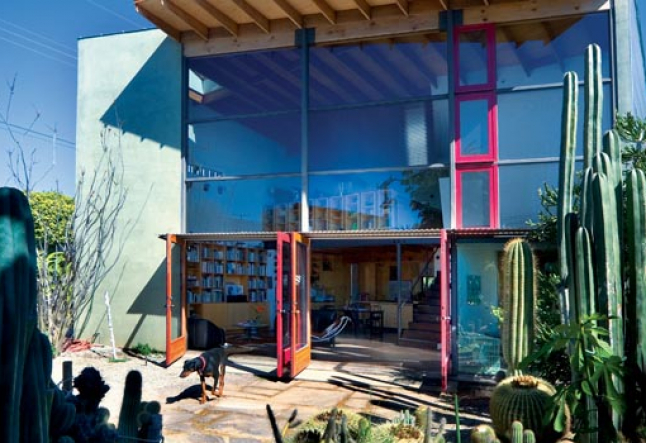 where size really does matter
Much of what architects are asked to design are large, sprawling edifices. It is a rare client whose aspirations tend toward the modest. Given his own passion for eco-sensitive design, mere scale was reason enough to attract Warren Wagner of W3 Architects to design the Pildas-Green home in Santa Monica, California. The home is sustainable not only in design, features and materials, but in its approach to a humble scale of living. It is the essential live/work space, with kitchen, living area, master suite, bathroom and work studio separated by a courtyard.
Designing for two artists who had a clear concept of how they wanted to live was a perfect match for the architectural creative. It allowed Warren to design a space that was at once romantic and efficient. Owners Ave Pildas and Phyllis Green lived in a traditional craftsman in Silverlake (Los Angeles), commuting daily to their art studio. Yet neither the home's interior, nor the east-side location was working for their lifestyle. When they originally bought the property in Santa Monica, it was an asphalt desert, an extension of a parking lot that sandwiched the adjacent alley. Its location was unique because it separates the highly trafficked Wilshire Boulevard commercial corridor from a residential neighborhood.
Conceived as two buildings around a cactus garden courtyard, the exterior design reflects the dressing, height and scale of the commercial along the north face, almost demanding it keep at bay while on the residential east side, the entrance is soft, intimate and welcoming. The front entry leads into the ground floor living space. Ceiling-high windows allow ample day lighting, uninhibited by the open kitchen, dining and lounge design. The modest square footage is supplemented with generous shelves and cabinetry. These are faced with birch plywood while the interiors are made of straw board.
One of those win/win stories, straw was previously an agricultural waste, but now enjoys its status as a second crop for farmers. Straw is the non-usable portion of hay, which was either buried – leading to incestuous soil biology – or was burned, resulting in massive air pollution after the harvest. Now farmers sell it to eco-sensitive manufacturers who use soy based organic binders resulting in a product that is superior to conventional particleboard, made from sawdust and toxic formaldehyde based glues. The holistic benefits are encouraging. Farmers benefit from a second crop, agricultural waste is stored as building material and pollution is avoided. The product is non-toxic and non-allergenic, resulting in improved indoor air quality and a healthier living space.
The ground floor is integrally colored concrete, which Wagner uses a lot in his projects. Chipping and wear and tear are of little concern because unlike a stain, the entire concrete is colored, resulting in long-term uniformity. Stairs lead to an open mezzanine for sleeping, which takes advantage of the city skyline. It gives the home a type of youthful energy, private but still very much connected to the sexy urban environment. The house is peppered with practical features, such as raw masonite interior doors. A mere twenty dollars from Home Depot, the doors are very sleek once a clear zero-VOC finish is added. Upstairs floors are a mix of bamboo and natural slate and again there is liberal use of strawboard, which takes a stain amazingly well. Day lighting is sufficient in itself, and night is lit via low voltage lights (where standard current is transformed down to low voltage).
The home is a completely passive solar space, the orientation and common area is designed to accept low winter and screen out high summer sun. In warm months, operable skylights and high windows open to release accumulated hot air. Open the courtyard doors and one encourages further cooling by creating a complete passive ventilation loop. In winter, unobstructed rays of sunlight heat the concrete floor, used for thermal mass. There is in-floor radiant heating as backup, but so effective is the direct solar-gain loop that the couple rarely if ever use it. The house is run on a 3-kilowatt solar-electric system that so meets their needs that after the first year, they were taken off regular metering and put on net metering. All of which means just an annual thirty-dollar bill for being "˜hooked up.'
The beauty and relationship of a live/work space separated by courtyard is considered so ideal, architect Warren Wagner duplicates it in his own property, seeing it as "one of the most important items in terms of sustainability." A ten-yard walk replaces a half-hour commute to the couple's creative workspace. There is a physical proximity, yet psychological separation from work. When considering all the sustainable or "˜green' features, from the passive energy systems to eco-sensitive materials, possibly the most significant of all is that Ave and Phyllis no longer burn fossil fuel to commute to work.
A gravel courtyard embraces the permeable paving ethic, allowing rain to percolate into ground water onsite, rather than issue into the street. Now a requirement in the city of Santa Monica, the home was ahead of its time when constructed in 1998. One point worth remembering is that the entire lot was covered in asphalt prior to this homes construction. The project replaced pavement in part, once again allowing the natural process of ground water percolation. In harmony with the front yard landscaping, the courtyard enjoys zero water-use via a stunning array of cacti.
The rear structure comprises an art studio, garage and upstairs office space. Phyllis is a sculptor whose interest is the domestic and the feminine, a slant that can be seen in her work. Previously she would wince before firing her kiln, mindful that it cost about forty dollars each time; now, however, they're generating more power on a daily basis than they consume. The project was always meant to be an exercise in cost-effectiveness. Exterior siding on the studio is zinc-alum, a durable, inexpensive industrial material at 55 cents per square foot. Seven years hence, and it's clear the home was built smart, not cheap.
Architect Warren Wagner likes this design as much, if not more than all of his more grandiose projects. At 1300sqft for the residence and 1100sqft for the work studio, it represents a modest proposal for living, sustainable in materials, function and design. For Ave, Phyllis, their two Doberman Pinchers and two parrots, this humble design is more than an exercise in cost and energy efficiency: it is their dream home.
[email protected] or 310.403.3078
Read next >> "green"- it's the new black when it comes to sustainable design