travel in harmony
Published: 07-06-2012 - Last Edited: 15-01-2023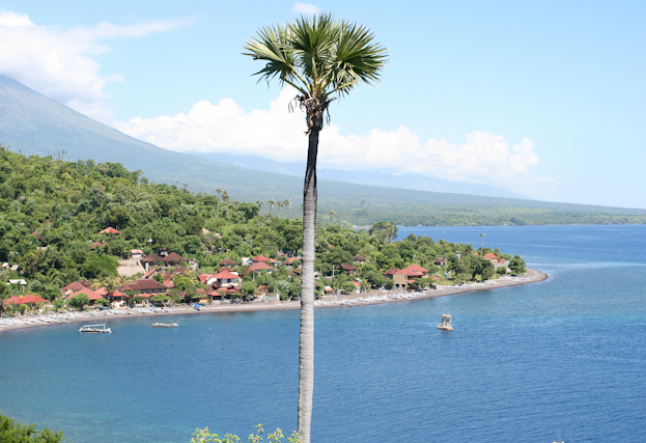 respecting the earth while you travel in style
A few years ago my husband and I took a windsurfing vacation to the Dominican Republic. By definition, we consider ourselves adventure travelers, always seeking out a journey off the beaten path where we can play outdoors and enjoy nature. Our criteria for this particular vacation was to find accommodations on or very close to the beach, somewhere low-key and private with lots of lush tropical vegetation, but we really hadn't thought much beyond that. We found the perfect spot at the first click of our Web search: Natura Cabanas, located just outside of Cabarete on the country's northern coast. While we hadn't consciously sought out an eco-resort, our awareness of what was important to us for our trip serendipitously lead us to this exquisite paradise.
Our beautiful beach cabanas were furnished with pieces handcrafted from bamboo and coco palms cut to make way for the gardens and walkways throughout the property. Delicious culinary creations were the product of the resort's Chilean chef who bought fresh fruit, vegetables and fish from the local market each day. Resort policy sensibly discouraged daily laundering of linens.
Needless to say it was the best vacation we had ever enjoyed. The sweet connection made by the resort management to create a beautiful green resort not only for our pleasure, but also for the benefit of the planet, quickly converted us to traveling green on our next vacation.
Traveling is more than a way of life for Westerners; we depend on its many facets daily, taking for granted that in the blink of an eye we can whisk ourselves with ease, quickly and relatively inexpensively, to any corner of the planet. We're enticed by exotic countries touting their natural heritage, yet the impact of global climate change compounded by the carbon footprint of our lifestyle and travels have taken their toll on our natural environment. Air travel continues to be a major contributor to carbon emissions polluting the atmosphere; precious water is being diverted to maintain golf courses and new high-rise resort hotels; locals are being shunted off their homelands for the sake of a tourist development; and delicate natural environments are being damaged by over-development. 
Tourist areas worldwide are dense with high-rise hotels, resorts and condos in places like Cabo San Lucas, Waikiki, Mallorca, etc. The list is long, stealing the daylong sunlight from beaches and polluting swimming areas. Even Costa Rica, a country that has won international accolades for its commitment to ecotourism, suffers from people-packing. 
Costa Rica has experienced exponential tourism growth and development all too quickly. Ironically, the impetus for this development over the past 20 years has been the emergence of the "eco tourist," with Costa Rica defining itself to the world as the ultimate in ecotourism paradise. The paradox is now the onslaught of visitors to this previously pristine country wreaking havoc on the local environment, and in particular to areas of Costa Rica's vast coastline.
Just some of the problems affecting the coastal areas in Costa Rica's famous surfing town of Tamarindo include the construction of sea walls, pollution of all kinds and waste treatment too close to the coast. In addition, unnatural lighting that streams from street and residential lights are disorienting sea turtles as they make their way shore-side to breed. These types of problems are all too common for many once-untouched destinations. 
Quincy Imhoff, a yoga teacher and board member of the Foundation for Deep Ecology in Marin, Cali., a not-for-profit involved with land conservation, states, "We are so used to degraded eco-systems in North America and most parts of the world that we barely recognize a pristine landscape anymore. Most people cannot see the detriment that over-grazing, poor forestry, industrial agriculture and globalization cause to the natural systems. By purchasing unspoiled and intact ecosystems you preserve them hopefully forever, but we also have to be careful as we visit places that we don't presume to know better than local people how to care for landscapes."
Also Read>>> Best Cold Plunge – Ice Baths
So what is eco travel, anyway? One definition is traveling to areas where the opportunity to experience local cultures and/or wilderness attractions are the primary purpose. This form of eco travel has been popular for many years as people have traveled to places like New Zealand, the Amazon, Alaska and Patagonia to experience the widely acclaimed natural and cultural environments of these stunning destinations. 
Eco tourism has also included the growing opportunities to take a vacation volunteering both locally and overseas with programs such as Habitat for Humanity, following a personal or environmental interest like bird watching in the Serengeti or indulging a spiritual yearning such as attending a yoga retreat in India.  
Eco travel enthusiast Cynthia Tuthill from Palo Alto, Cali., will make her fifth odyssey to African game parks this September, as well as her first Earthwatch trip next January to Baja, supporting scientific research on gray whales. A board member of the Indian Cranes and Wetlands Working Group, a division of the International Crane Foundation, Tuthill is an avid ornithologist and wildlife-lover. She and her husband Jim Orr actively seek out green travel opportunities because, as Tuthill so aptly puts it, "We believe in trying to keep from destroying our gorgeous world." 
A substantial portion of the travel dollars derived from safari camps in Zambia, Africa, go directly toward protection of the environment, namely the support of anti-poaching patrols in the national parks. Sometimes the monies even support education in those villages, teaching about the beauty of the environment and wild animals so the children who inhabit these areas learn to make a difference in their world. It also supports adult education focused on teaching villagers about sustainable agriculture, providing food for the safari camps as well as their households, and again, cutting down on the need for killing of the wild animals.
Describing her passion for Africa, Tuthill says, "The people who work in the camps from the small villages are kind and incredibly smart. They care about their country and the animals and making a difference in the world. When we're there we realize that we are improving the state of the world, and being able to contribute is a great feeling." 
A deeper level of eco travel is emerging concurrent with the influence of the green movement. The very word itself is the media's new darling, with "green" liberally splashed on covers, screens and billboards anywhere the eye might journey. Most notably, the documentary An Inconvenient Truth solidly confirmed what many eco travelers have been experiencing for themselves""our planet is more fragile than we thought. This media impact has been hugely responsible for generating a more sophisticated understanding of how travelers can both impact the areas we travel to and how we can begin to mitigate the damage. 
Firmly on the path as a mainstream institution, the green movement is redefining our eco travel experiences and bringing to light the correlation between two major issues facing tourism in the new millennium: sustainability versus overdevelopment and overuse. 
In response to this dilemma, eco travel is becoming more than just a pleasant vacation backdrop. By incorporating sustainable business practices into their operations, tour operators and hospitality professionals can minimize the adverse effects of traditional tourism on the natural environment while maintaining and enhancing the cultural and environmental integrity of local people and resources. Sustainable practices include promoting recycling, energy efficiency, water conservation, aiming for the lowest possible consumption of non-renewable resources, efforts to conserve the environment and the creation of economic opportunities for local communities.
New Zealand's Sustainable Tourism Charters is one such project using expert environmental assessors in participating regions to help provide real environmental solutions for tourism businesses. Assessors work with a business to establish highly practical solutions to issues like energy saving, disposal of waste and recycling. 
"Initiatives like this will help to set New Zealand apart from other destinations," explains New Zealand Tourism Minister Damien O'Connor. "The Charters project shows that sustainability and successful business can go hand in hand. Our visitors want to know that by having a great holiday in New Zealand, they're not harming our pristine environment."
As resort architects consider low-flow toilet options and alternative energy systems, and tour operators design terrain sensitive trails and educational tours, the eco traveler can take responsibility for making educated travel choices in support of businesses reaching out to promote sustainability in their tourism practices. With some simple research, travelers will find countless ways in which to travel green before leaving home. 
One way to travel more consciously is to choose your accommodations wisely. Check out greenhotels.com, a member association committed to encouraging, promoting and supporting ecological consciousness in the hospitality industry. From serving drinking water on request only, to providing local and sustainable menus, to installing new HVAC systems, Green Hotels Association offers hospitality professionals ideas, options and techniques on how to reduce bills as well as a hotel's impact on its community.
An example of this green mentality is St. John, one of the US Virgin Islands, which boasts at least four eco resorts on this relatively small Caribbean island. Maho Bay camps and resorts have been built with treetop fixed tents, canvas tent-cottages and open pavilions using site-sensitive techniques so guests can stay in comfort without damaging the environment. Construction methods minimize the removal of vegetation and use recycled building materials. Walkways are elevated to prevent soil erosion and protect beach life. The resort offers a work exchange program in which participants receive free lodging and other discounts in exchange for service. 
You don't have to jet off to the Caribbean to experience an eco-conscious vacation. Small considerations go a long way when traveling, such as buying only certified organic coffee widely available in most supermarket and coffee specialty stores. By purchasing Fair Trade Certified coffee, you directly support a better life for farming families worldwide through fair prices, community development and environmental stewardship. Likewise, opt to stay in hotels that serve only certified organic coffee and other food and beverage products.
Buy local curios and have fun indulging your inner shopper at village artisan markets while purchasing unique gifts you'll never find at the duty-free store. But be aware of issues such as the use of child labor and environmental damage that may be negatively impacted as a result of your purchase. You might want to think twice about splashing out for diamonds in Africa or indulging in that bowl of shark fin soup in Japan. Iceland supports hydrogen-powered vehicles, but on the flip side, they also support whaling.  
Carbon offset programs are being offered by a number of travel companies aimed at mitigating environmental damage. For example, Silverjet, a discount all-business-class airline flying between New York and London, has made carbon offsets mandatory by including them in the price of a ticket, while Travelocity's "GoZero" program plants trees on request. (A tree absorbs 1.3 tons of carbon dioxide in its life.) Or you can counterbalance your emissions by buying a TerraPass (terrapass.com), which will help fund clean energy projects such as wind farms.
There are many fine examples on all seven continents to travel green, to destinations that are both known and not so known, that provide many diverse opportunities for the discerning eco traveler to give back while having a unique travel experience.
Far south to the icy bounds of Antarctica where some 10,000 travelers visit annually, it was due to the growth of tourism in the '80s and the interest of ensuring the sustainable development of the continent that in 1991 the Treaty Parties adopted the Protocol on Environmental Protection to the Antarctic Treaty, designating Antarctica as a natural reserve. An experienced outfitter to this part of the world, Fathom Expeditions Inc., out of Toronto, Canada, is an Antarctic and Arctic cruise operator running custom small-ship cruises on exclusive 24-, 50- and 100-passenger ice-ships. Traveling by ship with an educated crew is by far the safest and most comfortable way to experience the arctic beauty. Fathom polar cruises focus on conservation and education in their trips, a perfect design for the eco traveler who enjoys cruising and hiking. 
Turning up the heat in the far northeast of Australia is the award winning Daintree Wilderness Lodge. Set amongst the World Heritage rainforest, it enjoys the unique privilege of being nestled where the rainforest meets Australia's Great Barrier Reef. Importantly, the pristine nature of this 30-acre rainforest property allows it to support a small but vibrant community of Cassowaries""a rare flightless bird that is the essence of the wet tropics. The local Cassowary Care Group focuses on habitat protection, restoration and education, and to ensure that they are able to continue their valuable work in this fragile ecosystem, the lodge makes a donation to the Group based on its occupancy. 
If South America's lush and unspoiled terrain is calling, take a trip to northern Patagonia and visit the spectacular Pumalin National Park. Founded by American Doug Tompkins in 1991 with the intention to protect its 40,800 acres of temperate rain forest from future exploitation, today the park is 720,000 acres, making it one of the largest private parks in the world. It is destined to become a Santuario de la Naturaleza (Nature's Sanctuary), a special nomination from the State of Chile in order to balance additional environmental protection, where industrial activity is prohibited. The park has a tourist infrastructure similar to other national parks, but under much stricter conservation guidelines, with excursion trails, camping areas, information centers, cafes and restaurants, cabanas and land and water excursions. Entry is free; accommodations are not.
If keeping a small carbon footprint is important to you, journey close to home. Undisputedly a global green leader, San Francisco is one city literally blossoming with green initiatives. Stay at the Orchard Garden Hotel on Bush Street, the city's first hotel registered as a Leadership in Energy and Environmental Design establishment, or take a short jaunt up to wine country and stay at the Gaia Napa Valley Hotel, the first hotel in the US to register for LEED Gold certification. Re-opening in 2008 is San Francisco's newly remodeled and green-constructed Academy of Sciences located in Golden Gate Park. At 1.6 million visitors a year, it will be heralded as the most visited green museum in the world.
So, what does eco travel have to do with yoga? From her Healdsburg studio, Yoga On Center, Imhoff draws a fitting analogy. "Yoga has become a lens that I try and use to view many parts of my life, including visiting other places," she says. "Taking the time to find your breath and let it guide you places, letting it help you "˜be present' and open to new experiences. Some of this can be joyful and sometimes saddening as well, but having this receptivity can enhance any travel experience. For a place to be genuine, it needs to exist for its own sake, not for others. As visitors to beautiful or meaningful places, we need to find the balance in treading lightly, but more importantly, thoughtfully. Let them learn from you too." 
Realizing practical solutions for sustainable eco tourism starts in our own backyards by being aware of our consumption of goods and services both at home and when traveling to ensure that the world's natural and cultural environments are preserved for future generations to enjoy. Minimizing our impact and maximizing our connection with people and the environment on our travels can be accomplished easily, so get out there and feel good about traveling green; the planet will gladly receive your contribution.
A selection of a few eco-friendly destinations
Shambhala Mountain Center
Built in 1971, this Colorado Rockies Buddhist-style retreat offers personal and family programs. Their lodges were built using sustainable slate, oak and bamboo.
4921 Country Rd. 68-C 
Red Feather Lakes, CO 80545
shambhalamountain.org
970.881.2184
Eco Park Resort at Mount St. Helens
Ninety acres of Washington State's finest views, with forest-friendly cabins and yurts for under $95 a night. Bring your RV or tent and hike or take a horseback adventure along the 12 miles of trails.
Eco Park Rd. at milepost 24
Toutle, WA 98649
ecoparkresort.com
360.274.6542
Baja Kayak Tours
Whale watching and the quaint casitas beach bungalows make up this Sea of Cortez retreat with tidal pools, clean drinking water and dining unique to Point Reyes Baja. Five-day stays start at $995.
bajakayaktours.com
888.546.2252
The Colony Hotel
This family-owned hotel in Kennebunkport, Maine, provides world-class service but treads lightly on our environment by reducing solid waste reduction, reusing materials, recycling and participating in energy and water conservation. Rates start at $99.
140 Ocean Ave.
Kennebunkport, ME 04046
thecolonyhotel.com
800.552.2363
Five Elements
Fivelements, Puri Ahimsa is a healing centre founded upon Balinese traditions. Located alongside the sacred Ayung River, Fivelements offers Balinese Therapies, a Living Foods dining room, and bamboo mandala pavilions for Sacred Arts healing. This retreat is an ideal place to nurture harmony with spirit, nature and one another.
+62 361 469 206
fivelements.org
To help you distinguish how green your travel destination is, consider asking these questions:
1. What portion of your travel cost is redirected
    to the community?
2. Will your trip help improve wildlife, i.e.,
    help save endangered species, help keep
    migration routes open or provide income for
    the indigenous people?
3. Does your travel company have policies
    regarding the exploitation of local resources,
    including the people, animals and foliage?
4. How are your green policies implemented?
5. Do you consider the environmental impact of
    all the activities and services you offer?
6. Do you employ local guides, leaders and
    staff and provide training opportunities?
7. Do you limit the size of your groups to
    minimize environmental and social impact?
8. Do you have a green purchasing policy?
9. Does your facility use environmental
    friendly detergents and cleaning solutions?
Read next >> the night in the slums of dharamshala that changed my life