Interview: Derek Purvis, Director of The Love Guide (2012)
Published: 22-06-2012 - Last Edited: 16-11-2022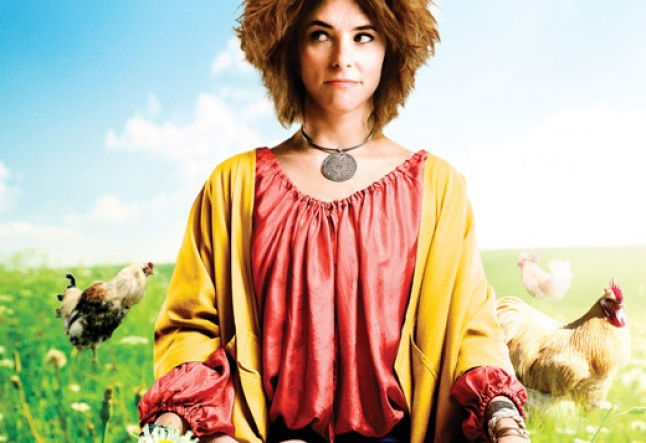 Derek Purvis, Director of The Love Guide Movie (2012) Interview
"The principles I've learned about yoga, meditation, and healthy eating are big parts of the pursuit to find balance". – Derek Purvis
Derek Purvis, creates a quirky and Yoga inspired comedy, The Love Guide – a zany tale on the spiritual quest for enlightenment and the pursuit of organic farming in small town America. Yogi Times were fortunate enough to catch up with him at the premiere in Boston, USA. The answers shared with us, highlights how living principals of Yoga were incorporated into the film making process and that life really does reflect art.
YT: Derek, what inspired you to make this movie?
DP: The incredible themes, messages, characters, and storylines in the script were so compelling and unique that I had to jump at the chance to involve myself creatively and from business sense… It's not often you get an opportunity in the film world to integrate important timely and relevant themes in to something so fun and entertaining and while you laugh you're also getting information about the farm to table movement, about the importance of spiritual balance and the relationships in the movie provided that so it drew me to it.
YT: Did you always have Parker Posey in mind to play Angelica Lovecraft and why do you think she was perfect for the role?
DP: No. Actually, it was a very lengthy casting process. There were several A-list actresses attached at one time or another but we could never find the right combination of schedule or price to make the whole thing go. Parker Posey is a hugely popular actress with so much experience that she brought to bear on our charming little movie. Those experiences in all of the wonderful Christopher Guest comedies made her really the perfect candidate for this zany, out of the box, over the top, East meats West, zen guru, Angelica Lovecraft. I was pleased to learn how important yoga and spiritual meditation are in Parker's life and not only did she bring that sensibility, that connection, the lifestyle of spiritual harmony to the character, but she brought it to the set and affected all of our lives for the better.
YT: The characters of Angelica and Millie both draw inspiration from each other on how to achieve balance in their lives, how important is it to have balance in your own life and how do you achieve that balance?
DP: It is a newfound priority for me that I didn't even realize was creating problems in my life. I was so work focused and all aspects of my life circled around my career and the false pursuit of leaving a legacy. I certainly can't speak from a position of authority about how to achieve that in your life, but the only thing I know for sure is that we all have to work at it. We all have to desire it and be willing to put energy and effort toward finding a balance (of course the definition of balance will be unique for everyone). I think that some of the principles I've learned about yoga, meditation, and healthy eating are big parts of the pursuit to find balance.
YT: There is a scene in the movie where Angelica and Mille symbolically let go of their egos by dropping rocks, representing the size of their ego, into a river. Yoga teaches us how to dissolve our egos by way of practice and self-discovery. As the Director, how important was it to highlight real yogic principles shown in a comedic way, was this always a conscious intention or did it just come about naturally through the film making process?
DP: Yes, it was very important and I hope we achieved that. It absolutely came about naturally in the film making process. From day one, yoga was in the story line and thought of by Christy Cashman, Writer, Producer, and Actress, but Parker's yoga and lifestyle really brought it to the forefront of the movie through her acting. The interesting thing about the collaboration of film was that even girls in the production office like Abbey Hickman who leads a yogic lifestyle were able to inform me of how to bring it to the screen. I'd like to teach her too for teaching me how to breathe. I had no idea all my life I didn't even know how to breathe"¦
YT: Finally, the chicken farm backdrop of the story highlights small town America's struggles into free-range organic farming from warehouse farming. Do you encourage free-range farming and what tips would you have for people struggling to come to terms with the concept of organic farming?
It can never be as simple as one or the other. The demand for food production will never allow for everyone's food to be harvested that way. Instead, I think what we should ask is: how do we move towards more ethical treatments, more human, healthy practices of getting food on peoples tables? Certainly, where possible and by people who can afford it, who have the space, being apart of purely organic free range meat production would be ideal. So, I think it goes back to the sense of balance which is one of the core principles of the movie: finding a way to accomplish enough mass production to feed everyone but also integrate the way of free range and purely organic as much as possible in a time when we're carrying the burden of not only feeding ourselves but trying to contribute on a global scale.
Derek, thank you very much for talking with Yogi Times and sharing your experiences and we wish you all the success with the movie.
For more on Derek and Saint Aire Productions: saintaire.com/company
Read next >> on the mat again….