Brown Rice, Roast Pumpkin & Raisin Vegan Salad
Published: 25-02-2014 - Last Edited: 17-10-2022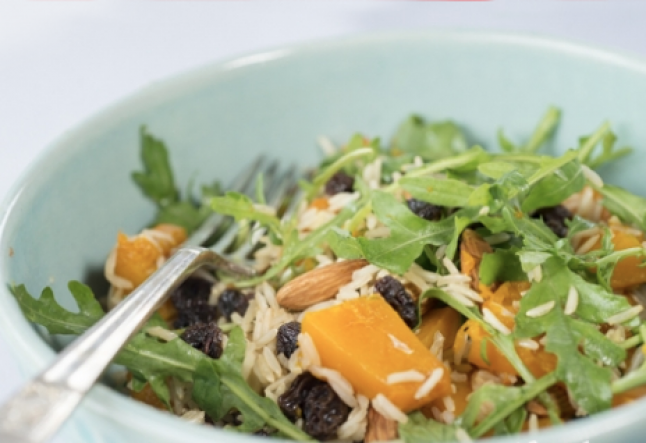 Preheat oven to 200C/400F.
Peel and seed ½ a pumpkin then cut into 2cm cubes. Place a sheet of baking paper on a baking tray. Arrange the pumpkin, in a single layer, on the prepared tray. Place the tray in the oven and bake for about 30 minutes or until light brown and tender.
Remove from oven and set aside.
Meanwhile, place on a high heat a saucepan with 2 cups of brown rice and 5 cups of water. Bring to the boil. Reduce the heat, cover with a lid and cook until all the water is absorbed and the rice is tender (do not overcook).
Spread the rice thinly over a tray and set aside
For the dressing:
Place in a small bowl the juice of 1 lime, 1 tbsp soy sauce, 1 sliced garlic clove and ½ tbsp of maple syrup. Whisk well to combine.
In a large bowl place the rice, roasted pumpkin and dressing, 1 handful of baby rocket leaves, 1 handful of fresh mint leaves, 1 cup of almonds and 1 cup of raisins. Gently stir with a spoon until well combined and serve.
Vegan Salad Recipe by: ifeelgood.com.au
Check this recipe >> kale avocado platano quinoa tacos