raw bounty bar cookies
Published: 01-03-2012 - Last Edited: 19-08-2021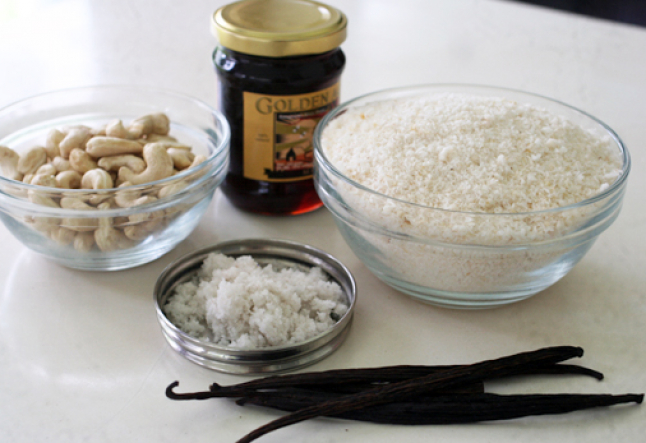 This is the perfect treat for these little sugary chocolate cravings in the afternoon that won't have you crashing. A raw and healthy snack these bars are our version of the beloved Bounty Bars.
raw bounty bar cookies ingredients
BOUNTY DOUGH
1 cup cashews

3 cups shredded coconut

1 to 2 teaspoon vanilla extract (or 2 vanilla beans – inside part only)

1/3 cup raw honey

1 teaspoon celtic salt

CHOCOLATE SAUCE

1/4 cup raw chocolate powder (you can also use regular powder)
1/2 cup raw cacao (melted with steam heat  – "Bain Marie" style)

1/3 cup honey

1 1/2 teaspoon vanilla extract (or 1 vanilla bean)

1/4 teaspoon celtic salt
how to prepare raw bounty bar cookies
Step 1. To make the Bounty dough, place the cashews and shredded coconut in a food processor and blend away happily. Add the vanilla and honey to the mix whilst humming sweet little song. Mix all together until slightly sticky. Whip up a sample on your finger and taste
Step 2. Place in a flexible mold of your choice, a small quantity of the dough in each mold. Freeze for at least 30 minutes or until frozen.
Step 3. In the meantime, prepare your chocolate sauce by mixing all ingredients (chocolate powder, melted raw cacao, honey, vanilla, salt) together in a mixing bowl.
Step 4. Unmold the raw Bounties and drop them into in the chocolate sauce one by one (cover entirely) and place on a flex sheet (or parchment paper) and put inside a tight box in the freezer.
Step 5. Let them sit for 5-6 minutes at room temperature before serving.
Enjoy this sweetly satisfying raw bounty alternative to one of our best loved childhood chokies!