ben ford's light – vegetarian polenta cake with herb cheese
Published: 19-09-2012 - Last Edited: 17-10-2022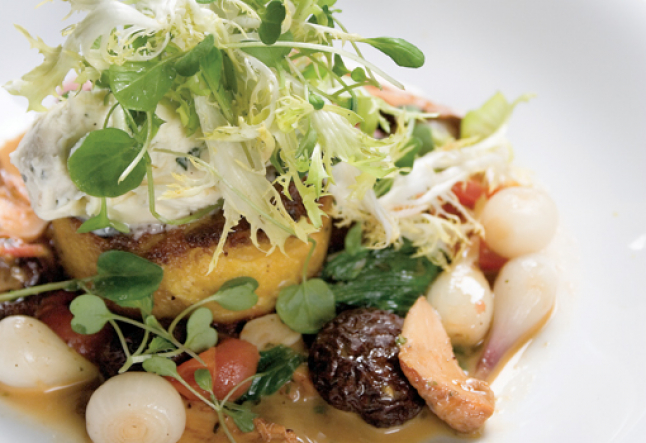 recipe for a delicious evening
To Prepare:
In a hot pan, sauté 1 t oil, the spinach, 1 T roasted garlic and a pinch of salt. Stir until the spinach is wilted and set aside.
Polenta Cake
In a medium saucepan, heat 1 T butter on medium heat until completely melted.
Add the shallot and remaining garlic, along with a pinch of salt and sauté for 2 minutes. Add the corn and cook for 4 minutes. Then add 3c vegetable or chicken stock and bring to a boil over medium heat. Slowly whisk in the polenta mix, 1⁄2c at a time, adding 1⁄4c of heavy cream and a pinch of Parmesan. Add up to 3c more vegetable or chicken stock as needed to thin the polenta.
Reduce to low heat, and continue to stir for 5-10 minutes until the polenta is smooth and does not taste gritty. Salt to taste. Remove from heat, and transfer to a lightly oiled casserole dish. Place in the refrigerator uncovered to chill. Use a large cookie cutter to cut out individual servings. You can keep the remainder to fry and toss over salads.
For Herbed Cheese

In a medium-size bowl, combine the mascarpone cheese and lemon zest. Cut the lemon in half and add the juice of one-half into the mixture. Then add the chopped thyme leaves and a pinch of salt. Fold together and chill in the refrigerator.
For the Topping
Wash and halve the tomatoes. Chill them in the refrigerator, then peel the outer layer from the onions, leaving roots intact. Drop the onions into salted boiling water until semi-soft to the touch. Strain and place in the refrigerator.
Chanterelle Mushrooms
Using the back of a pairing knife, lightly scrape the outside layer of the mushrooms, removing any dirt on the mushroom.Once cleaned, slice them into 1/4" pieces, and place on a paper towel in the refrigerator.
For Greens
In a small bowl, toss the cleaned frisée, chervil, and micro arugula with a couple of drops of the remaining half of the lemon.
Assembly

Heat the polenta in a 450-degree oven, or in a sauté pan with a 1/4" of hot oil until golden brown. At high heat in a medium saucepan, add 1t oil then add the onions. Cook until light brown on the outside. Add the mushrooms and cook for 2 minutes. Reduce to medium heat and add 2.5c veggie or mushroom stock, 1 T butter and 1 T herbed cheese. Add a pinch of salt as desired. As the mixture thickens, add the cut tomatoes.
On a plate, place a small amount of spinach in the center of a plate, and top with a polenta cake. Place the sautéed onions and tomatoes around the outside of the cake. Place the mushrooms on top of the cake, and pour the sauce on top. Top with 1 t herbed cheese and a pinch of greens.
Enjoy your vegetarian polenta!
Chef and restaurateur Ben Ford wears well-deserved kitchen stripes. He has worked his culinary magic at Chadwick, Opus, Campanile, and The Farm of Beverly Hills. He is the creator of an American gastro-pub called Ford's Filling Station located in Culver City, California (US) As Proprietor and Executive Chef, Ford serves up high-quality local ingredients in a modest setting.
INGREDIENTS
1 lb spinach, picked, cleaned, and sautéed
2 T garlic, coarsley chopped and roasted
2 T shallot, finely diced
2 T chives, finely diced
1⁄2 c corn milk or finely chopped corn
8.5 c veggie stock
1 box polenta
1 c heavy cream
1⁄2 c parmesan, grated
1 lemon, zested and grated
2 sprigs thyme, finely chopped
1 c mascarpone cheese1 stick butter, unsalted
8 red cherry tomatoes
8 gold pearl tomatoes
20 pearl onions
1 chanterelle mushroom, sliced
1 head frisée lettuce
1 t chervil, picked
1 large pinch micro arugula
Entrees | Serves 4
Prep. Time: 25 min. | Cooking Time: 25 min.
Read next >> vegetable vol au vent