the sculpture of patricia sullivan
Published: 26-02-2013 - Last Edited: 16-11-2022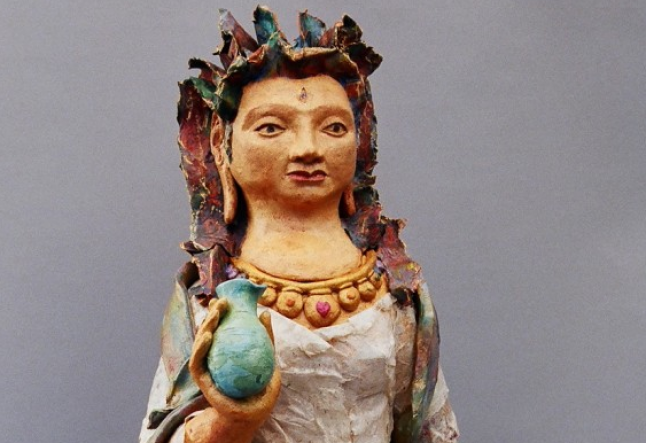 the art of surrender
For over thirty years, Patricia Sullivan has been practicing the art of surrender. Through exploration and spiritual devotion, she not only moves into the most beautiful of asanas, but brings them to life in her sculptures of yoga poses and Buddhist and Hindu deities.
When first introduced to this artist and yogini, it became apparent that Patricia is at once deeply spiritual and reflective. As she describes the inspiration for her sculptures, one a bronze statue of Pattabhi Jois that stands almost two feet tall, her words are simply "it is a process of surrendering to exploration."
Patricia's personal journey to yoga and sculpture is one of surrender and transformation. It was in 1970, while going through a challenging time in her life on the North Shore of Hawaii, that a young Patricia was first introduced to yoga. At the age of 21, her life was forever changed when a friend gave her copy of Paramhansa Yogananda's, Autobiography of a Yogi. "I was dissatisfied with life and then someone came along and told me about yoga. They gave me the Autobiography of a Yogi. It was wonderful. I gained satisfaction, peace and exhilaration from yoga."
In 1976 her life changed again when she first met BKS Iyengar. "I was immediately taken in by his level of detail and exuberance." For ten years, Patricia traveled to India to study with Mr. Iyengar and his daughter Geeta. It was during that time that she began to develop another spiritual practice – the art of sculpture.
"I was a potter first, and then my sculpting started." It was 1984, after studying yoga for almost fifteen years, that she sculpted her first series of yoga poses. Later, her art shifted into a new direction. "I started wanting to incarnate in the West some of the deities from the Hindu and Buddhist traditions." In the 1990s, Patricia's yoga began to change as well, and she began to study Zen Buddhism and Tibetan Yoga. As a teacher at the Tassajara Zen Mountain Center, a monastic retreat center, her study of Zen Buddhism had a powerful influence on her teaching and art.
As you come to Patricia's work and view her sculptures of the Buddha, her modern depictions of the Bodhisattva of Compassion, and an almost life-like bronze statue of Pattabhi Jois, one must wonder where the inspiration for her work comes from. In her own deeply reflective words, Patricia simply answers, "It is a place that can't really be named. Something just has to come out. I go to a different place in my mind that is not conditional. It is about getting in touch with the unconditional."
As she invites each sculpture to come into being, it is Patricia's hope that the uniqueness and modernity of her pieces will inspire those who view her work to look deeper. "Art really does take on a life of its own. Once it's done, it is up to the viewer. I want someone to see beyond the shape of the pose and see into the spirit of the pose, and the beauty of the body."
The shapes that Patricia's sculptures take not only inspire, but also invite the viewer to surrender and see something of themselves in each piece. Another life-like sculpture, Jubilation, does just that, as the female figure arches into a backbend with the right leg beautifully extended to the heavens. As Patricia describes it, "Many non-yoga observers have commented on the uplifting experience of just gazing on her form, without ever having had to mold their own bodies into this incredible shape."
Much of Patricia's journey in yoga and in sculpture has been about letting go, and allowing one's self to become transformed. Today, this woman who describes herself as being "painfully shy" at one point in her life, is now, after twenty years, making her work more accessible to the Bay Area community. After teaching a class at Yoga of Sausalito, Patricia sat with the owner and showed a postcard of one of her pieces in passing. Immediately intrigued by her work, she was asked to feature her sculptures in a Sausalito gallery.
Patricia is happy to share her work, though her primary focus is still on teaching yoga. As an artist, she creates to inspire others and even herself. "I have always been kind of a loner in my art. It is just something I have been compelled to do."
Read next >> miho hagino | the word weaver