Acroyoga
Published: 31-12-2012 - Last Edited: 10-11-2022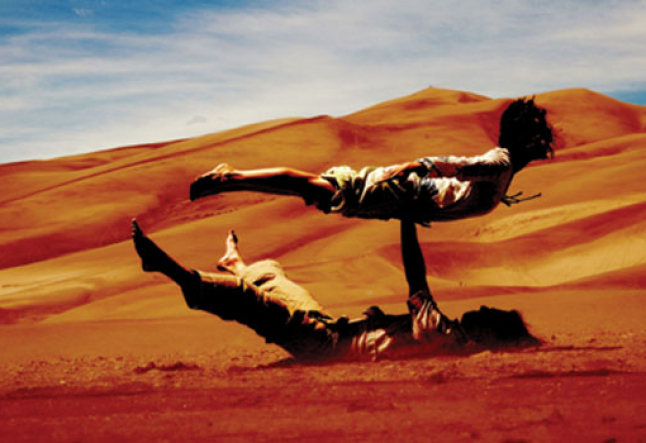 AcroYoga is the amalgamation of acrobatics, yoga, Thai Massage and deep partner stretching. In December 2003, yoga teachers Jason Nemer and Jenny Sauer-Klein met and began to explore all the different body and movement techniques they had acquired over time. Jason comes from an acrobatics background, while Jenny has been a yoga teacher for many years. Out of their exploration, AcroYoga was born. It is an art form of movement that allows the practitioner to develop trust, to deepen connections with a partner and to explore courage and playfulness.
Later, Carolyn Cohen joined the core teaching group and added Thai Massage and deep partner stretching to the AcroYoga repertoire. The first workshop was held on Valentine's Day in 2004. Since then there have been workshops all over the globe. "It's amazing to come back to a city and have people tell us how grateful they are for the work," says Jason. "Or how the workshop brought their relationship to a deeper level," adds Carolyn.
An AcroYoga workshop includes a circle ceremony, asana warm-up, partner flow, inversions, partner acrobatics, contact yoga (flying) and Thai massage. The circle ceremony brings everyone into a circle and uses different exercises to foster the melting of boundaries, creating a much more relaxed environment.
Partner flow is when two partners face each other and one leads an asana sequence while the other follows, and then they switch. "Emotionally this section tends to bring up the most. It is very confronting for the participants," says Jenny. The inversions and partner acrobatics can be the most physically demanding, while the Thai massage releases deep emotions and relaxes participants at the end of the workshop.
Jason, Jenny and Carolyn are spreading their work around the world. The AcroYoga practice brings people closer. It is the antithesis of our technology-focused, PDA blackberry wi-fi world. Navigating life on your own can be difficult at times. AcroYoga promotes attempting this practice, "assisted, spotted and supported." It encourages people to become more aware of their body and their ability to do what they never thought possible.
Read next >> What does yoga teach us about letting go?