Stepping into your first hatha yoga class
Published: 29-05-2014 - Last Edited: 06-10-2022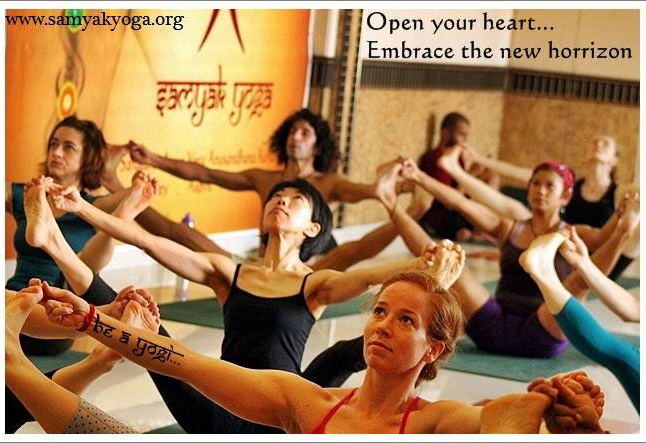 yoga practice: from prose towards poetry
On the very first day you dropped into a yoga class, you must have thought while looking at everybody, "What the hell is happening?" Most of us have dropped into our first yoga session for various reasons — whether it's out of curiosity, or because we were told by one of our close friends, or because we know someone who has healed from a physical disease, or because of the search for happiness. We left the first session feeling happy, but mostly thinking, "It's awesome, but I may not be able to do what others in the class are doing."
As the happiness after class has been irresistible, we might have thought often to go back to yoga class fully knowing that we may not be able to do what others on the mat next to us are doing. Some can do lotus easily, some might do headstand and its variations comfortably and some are in some weird balancing poses!  Still we come back again and again. 
The body eventually starts saying, "Yes dear, You can." It's not that hard. We start feeling that we can do many of these postures after a few weeks/months of regular practice. It starts with being comfortable in the posture. Every time we come out of class, we are happy in the feeling of reaching a new realm, a new horizon of understanding our potentialities. Sometimes it is just a small change in technique, sometimes it just happens. We don't know how!
Now, as we start enjoying the practice, understanding the postures and alignment, our focus turns to the breathing aspect. Thanks to the teachers who inspired us. Often, the teacher says not to hold the breath even though we feel like we have no choice but to hold the breath. Now, the practice has taught us so much that we can breath longer, focus easily and feel amazing to be in most of the postures.
As we start enjoying the postures and breathing during practice, it feels as if we are meditating. If you analyze the entire journey, it was more like prose, mathematics, and science in the beginning. The more we practiced and enjoyed the process, it has become a poem, a song and an art. It is now a moving meditation wherein the mind stays calm, still and we now love to be in the postures. The transition is no longer just the link between the postures, but a graceful dancing movement. This state of practice — graceful, with the mind in a state of meditation, full of passion, expressing ourselves in the postures, manifesting the consciousness — is evidence of progress in the practice.  
The mere exercises to stretch the body have become the poetry of life. As we started understanding the grammar of yoga, we have actually started writing the poetry everyday on the mat. 
Let our practice be a graceful expression of our ecstasy, an expression of our union with the universal consciousness. Let us hope and aspire to express the same state of grace in each action we perform beyond the mat, in everyday life. 
Read next >> what is hatha yoga really